Two-defending champions Showstoppers, Police-B, Mocha, Up-Like-7 and West Side Ballers won their matches when the fourth Guinness 'Greatest of the Streets' West Demerara/East Bank Demerara zone commenced Friday.
The torrential downpour which occurred throughout the evening did not hamper the festive atmosphere as a large crowd descended on the Pouderoyen Tarmac.
Showstoppers edged Admiral United 1-0 compliments of a Stephon Jupiter 12th minute strike while Police-B upset ESPN 1-0 through a Kevin Duke seventh minute goal.
Also, Mocha downed Agricola 2-1 with
Amos Ramsay scoring an 18th minute 'Guinness Goal' (goal scored in the final three minutes is counted as two) to secure the result.
For Agricola, Domini Garnett netted in the fifth minute.
Meanwhile, Up-Like-7 edged Patentia Money Team 1-0 with Shane Webster the difference maker in  the sixth minute.
West Side Ballers downed Jetty Ballers 1-0 with Quessey Alleyne finding the back of the net in the 14th minute.
In other results, Dream Team needled Front Line Ballers 1-0 while Rising Stars overcame Zeelugt Warriors by an identical score.
Asylum Youths defeated Ballers Empire 1-0 on penalty kicks while Nismes Ballers needled Bagotville All-Stars 1-0 via the penalty mark.
Veterans edged Zeelugt-FC 1-0 via a penalty shoot-out while Harmony Ballers-A squeaked past Facebook Ballers by an identical score in a penalty shoot-out.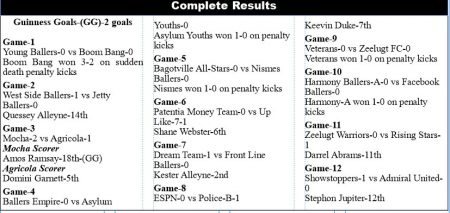 In the final result, Boom Bang defeated Young Ballers 3-2 on sudden death penalty kicks. The tournament, which features 32 teams, will be contested utilizing an initial group stage format.
Upon the conclusion of the group round, the top two finishers will advance to the knockout round.
The Pouderoyen Tarmac will serve as the venue for the championships and the other playing dates are February 2nd, 7th, 9th, 13th and 17th.
The winning team will pocket $400,000 and the championship trophy while the runners-up will receive $200,000 and the corresponding accolade.
The third placed finisher will receive $150,000 and a trophy, whilst the fourth placed unit will walk away with $100,000 and a trophy. Below features a complete list of the results.
Around the Web