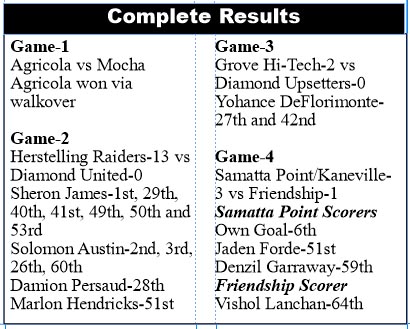 A seven-goal blitz from Sheron James propelled Herstelling Raiders to a crushing 13-0 victory over Diamond United when the East Bank Demerara zone in the Frank Watson Memorial U15 League continued yesterday.
Played at the Grove Community ground, James found the back of the net in the first, 29th, 40th, 41st, 49th, 50th and 53rd minute.
He was assisted by a four-goal strike from Solomon Austin in the second, third, 26th, 60th minute.
Chipping in with goals in the 28th and 51st minute were Damion Persaud and Marlon Hendricks respectively.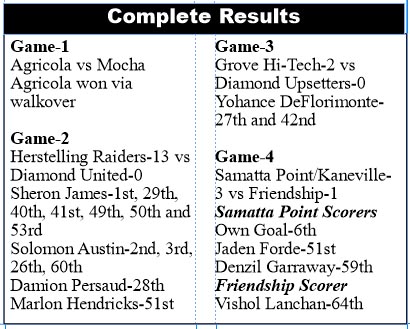 Meanwhile, home side Grove Hi-Tech downed Diamond Upsetters 2-0.
Yohance DeFlorimonte bagged a double in the 27th and 42nd minute. Similarly, Samatta Point/ Kaneville United downed Friendship by a 3-1 scoreline.
Jaden Forde and Denzil Garraway netted in the win in the 51st and 59th minute, while an own goal opened the scoring in the sixth minute.
On target for the loser in the 64th minute was Vishol Lanchan.
Agricola gained a walkover from Mocha Champs. The event continues today at the same venue with another four matches.
Around the Web