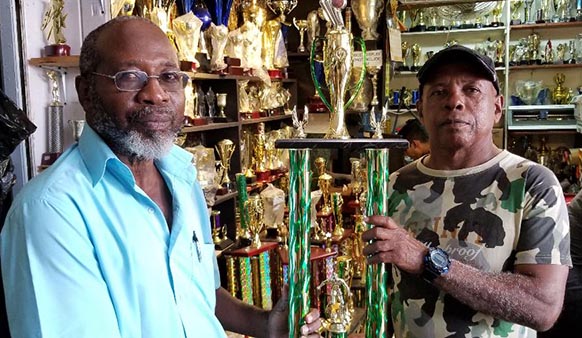 Tiger Bay, Pouderoyen, Crane and Soesdyke sealed quarter-final berths when the Hamilton Green 83rd Birth Anniversary 9-A-Side Inter-Ward Football Cup commenced Sunday.
Played at the Den Amstel Community Centre ground, Tiger Bay upset home side Den Amstel 2-1 on penalty kicks after the match ended 1-1.
Deon Alfred scored for the Georgetown outfit while Delon Lanferman netted for Den Amstel.
Pouderoyen needled Kuru-Kururu 1-0 on sudden death penalty kicks, following a 1-1 scoreline at the end of normal time.
Eon Sullivan found the back of the net for Pouderoyen while Mark Cudjoe etched his name on the scorer's sheet for Kuru-Kururu.
In another fixture, Crane mauled Friendship 5-0. Esan Nelson recorded a helmet-trick in the rout, while Lexroy Manfield scored once.
Similarly, Soesdyke downed Zeelugt 2-0. Tevin Marlow and Kelson Benson were on target in the win. In other results, Plaisance edged Jetty 1-0.
Travis Garraway scored for the East Coast Demerara unit. Crane Rovers squeaked past Bagotville by an identical score compliments of a Jevin Eastman attempt.
Also, Sara Lodge defeated Wales 2-1 on penalty kicks after normal time ended scoreless whilst Uitvlugt earned a walkover from Vege Boyz.
The competition will conclude on February 4th at the same venue, with the resulting quarterfinals, semifinals and final.
The first and second place cash prizes of $70,000 and $30,000 respectively have been donated by Banks DIH Limited.
Ricks and Sari Food Hampers will also be presented to the winning team  alongside blankets from Food for the Poor Guyana Incorporated.
On the individual side, the Highest Goal Scorer will receive a table set compliments of China Trading while the runners-up in this category will pocket a 'Lazy boy Chair' from A.H.& L. Kissoon.
Meanwhile, Trophy Stall's Brian Sealey yesterday handed over the winning trophy to organizer Lennox Arthur, former national player and coach.
The Trophy Stall of Bourda Market is donating all the trophies for the tournament, its CEO Ramesh Sunich told Stabroek Sports.
Complete Results
Game-1
Jetty-0 vs Plaisance-1
Travis Garraway
Game-2
Zeelugt-0 vs Soesdyke-2
Tevin Marlow
Kelson Benson
Game-3
Wales-0 vs Sara Lodge-0
Sara Lodge won 2-1 on penalty kicks
Game-4
Crane Rovers-1 vs Bagotville-0
Jevin Eastman
Game-5
Pouderoyen-1 vs Kuru-Kururu-1
Pouderoyen won 1-0 on sudden death penalty kicks
Pouderoyen Scorer
Eon Sullivan
Kuru-Kururu Scorer
Mark Cudjoe
Game-6
Crane-5 vs Friendship-0
Esan Nelson-(4)
Lexroy Manfield
Game-7
Uitvlugt vs Vege Boyz
Uitvlugt won via walkover
Game-8
Den Amstel-1 vs Tigerbay-1
Tiger Bay won 2-1 on penalty kicks
Tigerbay Scorer
Deon Alfred
Den Amstel Scorer
Delon Lanferman
Around the Web