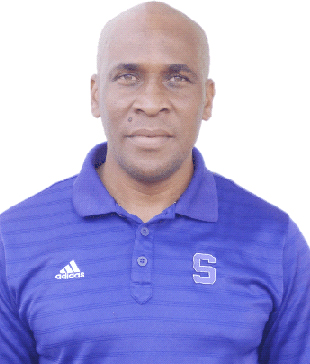 Local International Federation of Association Football (FIFA) referee Gladwyn Johnson and assistant referee Kevin Stephens have been appointed match officials for the Caribbean Club Championship in Trinidad and Tobago from today until February 4th.
Johnson and Stephens are among the 12 match officials appointed by the regional confederation to officiate at the event.
The referees emanate from countries such as Jamaica, Mexico, St. Kitts and Nevis, Cuba, Panama, Trinidad and Tobago, United States of America, Cayman Islands, Curacao and El Salvador.
A release from the Guyana Football Federation (GFF), quoted Johnson as saying: "I really appreciate this appointment. It's always a pleasure to officiate, doing what I love doing. I'm looking forward to having a wonderful tournament officiating as I strive for excellence as I go along in my refereeing career."
Stephens said his aim was to develop in an effort to officiate at the World Cup.
"I will continue to strive for excellence and to develop an attitude and habit to that of a professional referee since my goal is to officiate at the FIFA World Cup. With this, I'm hoping to pave the way for other young aspiring referees to follow in my footsteps and bring more glory to our beautiful Guyana."
The duo are among eight locally based FIFA accredited officials retained for the year of 2018. The other male referees are Sherwin Moore and Sherwin Johnson, while the female referee is Maurice Skeete.
The other male assistant referees are Venton Mars, Trevor Porter and Kleon Lindey.
The lone female official, Ms. Maurees Skeete, is listed as a CONCACAF Tier 2 referee.
Johnson maintained his status in the CONCACAF Targeted Advanced Referee Programme (TARP) while Stephens regained his status as a CONCACAF Tier 2 Assistant Referee and Mr. Sherwin Moore maintained his status as a CONCACAF Tier 3 referee.
According to Stanley Lancaster, Head of GFF's Refereeing Department, "The team of re-nominated referees has been consistent in their performance over the past year and signals the confidence the governing body has in the locally-based match officials."
"Unfortunately, two have not been re-nominated for 2018 – Lenval Peart and Odessa Caleb – but we hope the re-nominated team will inspire other referees to work and commit even harder to the process," Lancaster added.
Around the Web