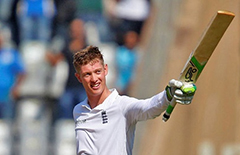 LONDON, CMC – England Lions left for the Caribbean yesterday, bracing for a tough challenge in foreign conditions but confident of executing, following an intense training camp Down Under.
The squad, headed by Test opener Keaton Jennings, will clash with West Indies A in three four-day "Tests" and three one-dayers in a tour running from February 5 to March 11.
Jennings, leading  the side for a second straight overseas tour, urged his players to adapt quickly as Lions looked to take positive positive results against the hosts.
"West Indies will be a different culture for us all to experience, and it's an exciting prospect to be playing at Sabina Park in Kingston, where we've got our warm-up match next week as well as the second Test," Jennings said. England Lions captain Keaton Jennings.
"Then we head to Antigua, and after that for those of us lucky enough to be in the North-South Series as well, we play at the Kensington Oval in Barbados.
"I expect the atmosphere to be similar to last year. You get put under pressure both by the opposition and our own coaches. You have to be able to adapt to unknown opposition in different conditions." He added: "There's also the element of trying to impress the coaches and selectors who will be out there – and if you look at our squad, there are a few guys who will be vying for different positions. But we will also be trying our utmost to win the series."
The 25-year-old Jennings is a left-handed opener who hit a hundred on debut against India 14 months ago but was subsequently dropped after only six Tests.
He leads a strong squad which includes wicketkeeper Ben Foakes and 20-year-old leg-spinner Mason Crane, both of whom were part of the recent Ashes squad.
Jennings said the recent training camp in Australia had been a valuable one and the Windies A series represented the ideal opporunity for players to showcase their skills in a match situation.
"The focus in Australia was on training and practice, with the bonus of a three-day game against Queensland and a T20 series against Perth Scorchers," he explained.
"Now we switch to a focus on playing matches, with the three Tests against West Indies A followed by a one-day series.
"It was similar last winter, with our training camp in Dubai and Abu Dhabi before Christmas and then the great experience of touring Sri Lanka.
"England go there next winter so for any of the Lions guys who have managed to force their way in, they will have a first-hand experience of playing in places like Kandy and Dambulla."
England A open the tour with a three-day tour match at Sabina Park on February 5 before clashing with Windies A in the opening "Test" at the Trelawny Multi-Purpose Compex starting February 11.
The second match is scheduled for Sabina Park from February 18-21 before teams head to Antigua for the final "Test" from February 26 to March 1 at the Vivian Richards Cricket Ground.
All three matches in the 50-overs series will be played at the Coolidge Cricket Ground also in Antigua.
Around the Web