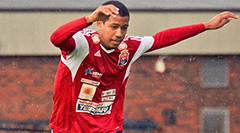 LONDON, CMC – Well-travelled Bermudian striker Jonté Smith has told a British newspaper he left a Vietnamese club because of racial discrimination only four days after being offered a lucrative contract.
Smith, 23, the son of Bermuda national cricket coach Clay Smith, says he was offered £15,000 (about US$21,000) a month to play in Vietnam in 2016, but was shocked when he and the club's other black players were made to warm up away from the rest of the team.
Smith, who now plays for English non-League side Lewes, and the two other black players were also ordered to eat separately after the training session.
Smith spoke of his ordeal to The Guardian as part of a group of athletes discussing racism, sexism and inequalities in sport. They included Lewes women's goalkeeper Faye Baker, javelin thrower Goldie Sayers, former world champion badminton player Gail Emms and wheelchair racer Anne Wafula.
"I got an offer to play in Vietnam when I was 20, 21, for a ridiculous amount of money – £15,000 a month after tax," Smith said.
"I left after four days. The very first day I went to warm up with the rest of the team, and I was told I had to warm up over there with two other African players.
"It gets worse. After the game, I pick up my food and sit down with them and they say, 'No, you have to sit over there with the African players'.
"I wouldn't have stayed for anything."
Smith is now paid £200 a week for Lewes, who play in the Isthmian League South Division, the seventh tier of English football.
The Sussex club, a semi-professional outfit, were the first in the country to pay its male and female teams equally, with Smith and Baker both proud of the club's ground-breaking initiative.
"There are now more young girls coming in to train," said Smith, a second-half substitute in a 1-1 draw at home to Walton Casuals at the weekend. "And that's how you start."
Smith rejoined Lewes last season from National League side Welling United. Since being released by Crawley Town in 2014, Smith has played for five different teams in three different countries.
He had two prolific years in Scandinavia at Kemi Kings of Finland and Norwegian side Floy before returning to England in 2015 after joining Gloucester City in the National League North.
Around the Web