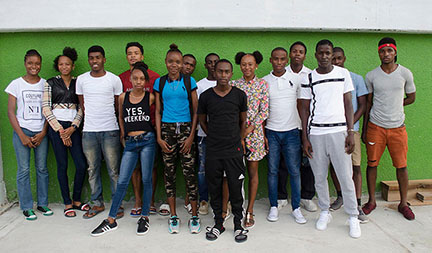 The Athletic Association of Guyana (AAG) pre-CARIFTA Games camp got underway yesterday at the National Track and Field Centre at Leonora.
The Bahamas is set to host the 2018 CARIFTA Games during the Easter holiday weekend, March 30 to April 2, at the Thomas A. Robinson National Stadium.
The weekend camp will see the athletes training on the track and in the hills of Linden. Rap sessions and flexibility conditioning with the coaches will also be conducted.
The sum of 21 athletes inclusive of track and field standouts, Daniel Williams and Chantoba Bright will be part of this weekend's camp.  According to information reaching Stabroek News, Analisa Barclay, Brianna Charles, Toyan Raymond, Tiffauna Garnett, Cassie Small, Joanna Archer, Princess Browne, Kissanna Glen, Daniel Melville, Loneil Marks, Cordell Charles, Rickie Williams, Tortque Boyce, Tremaine Beckles, Okemi Porter, Jermaine King, Tyrell Peters, Mark Solomon and Anthony Williams were named as the other athletes for this week's camp.
The athletes will be under the watchful eyes of coaches, Lyndon Wilson, Linden Phillips, Sham Johnny, Cornel Rose, Julian Edmonds, Johnny Gravesande and others.
When asked about the condition of the athletes, one of the coaches stated that he would have a better idea following this weekend's camp, but said as far as reports reaching him are concerned, the athletes had been training well with their respective coaches.
This year's CARIFTA Games will see the Bahamas hosting 26 countries and 500 athletes, and will consist of 400 volunteers and about 150 Bahamian and international officials. It is the premier track and field junior competition in the region.
A number of Olympic and World Champions from around the region competed in the CARIFTA Games including Usain Bolt, Kim Collins of St. Kitts & Nevis, Ato Boldon of Trinidad & Tobago, Karani James of Grenada and the Golden Girls and Golden Knights from The Bahamas.
Around the Web