Despite scattered showers Demerara powered their way to a four-wicket win over the President's XI, who remained winless in the Guyana Cricket Board (GCB)/Dave West Indian Imports Inter-County Under-15 tournament, as they stormed into the final after Romel Datterdeen's all-round heroics.
Winning the toss and choosing to bat, the President's XI bettered their previous high score, posting an imposing total of 88, as they were bowled out inside the 43rd over.
The match had to be reduced due to two showers which caused over two hours of delay. Nevertheless, excellent work from the experienced groundsmen at the Lusignan Community Centre Ground allowed Demerara the chance to prove themselves, as they were tasked with scoring 80 runs in 40 overs according to Duckworth/Lewis and Stern method.
The Demerara openers, Nicholas Rajpat and Mavindra Dindyal looked to make light work of the score coasting to 31 from 11 overs, before Rajpat (13) was caught at square leg trying to muscle Tathesh Shivrattan over the ropes. Chanderpaul Ramraj fell without scoring three balls later, losing his balance with his head in the air, bowled by Ajay Gainda. Dindyal then fell to Gainda for 13, as the score slumped to 31-3.
Captain Datterdeen arrived at the crease to anchor the chase. Running between the wickets was integral to the chase, but Datterdeen was running out of partners, as Zachary Johda departed for one.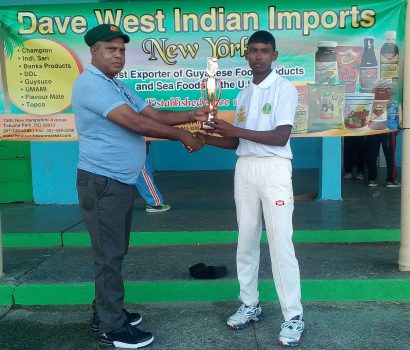 Alex Ali and Datterdeen carried on the chase, rotating the strike before Datterdeen, attempting an over excited shot was bowled by Mitra Dhanraj, after scoring 17. Ali fell for six, but Theaddus Lovell and Rivaldo Phillips saw Demerara safely into the final, without further loss and ten overs to spare.
Earlier, the President's XI did well to reach 88 as their innings comprised of a lot of ups and downs. Playing cautiously, opening batsmen Captain Bhedesh Persaud and Chandra Saffie fended off the Demerara attack. However, Saffie's departure triggered the fall of three more wickets, as the President's XI slumped to 21 for 4.
Tameshwar Mohadeo was then joined by Yohance Angoy and the pair added 27, the most successful partnership of the innings. Demerara should have chased a smaller total but their nine bowlers conceded 33 extras, more than any batsman had contributed.
Datterdeen was adjudged the Man of the Match for his top score of 17 and the fine returns of two wickets for 12 runs in his five overs.
Demerara will oppose Berbice in the final, and will look to avenge their loss in the second round, on Saturday at Everest Cricket Ground.
Around the Web