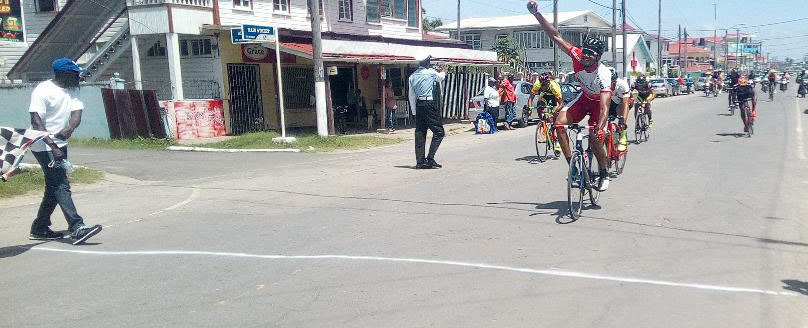 Michael Anthony recorded his first victory in 2018 by winning an eight man dash to the finishing line in the first stage of the 27th annual Forbes Burnham Memorial cycle road race yesterday.
Riding across the Ancient County of Berbice, the riders assembled at the Corriverton starting line with 46 riders taking to the white line. Hundreds of onlookers took to the roadways, lawns and some even viewed the action through their windows as commendable work from the Police in the region ensured there were no hiccups for the riders.
The in-form Paul DeNobrega led the 10-man breakaway as they battled the powerful winds, collecting the first prime. Anthony and Jamaul John then broke away from the pack and established a 90-second lead over the pack led by defending champion, Andrew Hicks. The chasing pack eventually caught up with the two leaders a few metres short of Tarlogie Village.
Nearing the half way point it was John, Anthony, Hicks, DeNobrega, Walter Grant-Stuart, Enzo Mathews, Paul Choo-Wee-Nam, Marcus Keiler, Jornel Yearwood, Shane Budram and Alanzo Ambrose as they powered past the Berbice Bridge on their way to New Amsterdam.
With the winds favouring them, the pack dropped Budram who seemed to be struggling with the heat, constantly bathing in the water. But by the final stretch of the 46-mile journey, Anthony was first to take the jump, powering past the finish line to a jubilant contingent of officials spectators, representatives and stakeholders.
Anthony, Paul, John, Mathews, Yearwood, Grant Stuart and Choo-Wee-Nam clocked in at one hour 54 minutes and one second (01:54:01) while Hicks, who suffered a puncture on the Canje Bridge, rolled in on a flat tire 36 seconds later with Keiler and Eastman sprinting to the line behind him. Other notable times of the day were Curtis Dey (02:02:23), Dwayne Gibbs, Ian Jackson and Donavon Fraser (02:00:36), Romello Crawford (01:59:45), Gary Benjamin, Clement Doris, Steve Ramsunich (02:08:40), David Hicks and Johnathon Ramsunich (02:09:35).
The tournament was sponsored by the Forbes Burnham Foundation with  Vincent Alexander present at the finish.
The next two legs of the event will be held on Sunday with the riders coming to Homestretch Avenue from the mining town of Linden.
Around the Web