The 27th annual Easter Term Windball tournament at the National Gymnasium on Friday saw six matches in the Secondary Schools tournament as Camille's Institute for Business and Science Studies, Friendship and Diamond Secondary recorded wins.
In the girls division, Soesdyke Secondary posted 96-2 from their allotted five overs as Makeva Hopkinson blasted 52 with seven sixes, well supported by Grace Layne (23) and Tenisha Hoyte (16).
However, it was not enough as Camille's reached the target led by Alicia Davison with an unbeaten 50 and Candacy Famey with 28.
Xenon Academy managed to score 103-1 with Rebecca Isaac's unbeaten 46 going in vain as Friendship Secondary won by 10 wickets with Aaliyah Reid (60) and Alexis Scott (42) dominating.
Meanwhile, Jos-El Educational Institute lost just one wicket on their way to 59 as Carletta Kendall held her own for 30 not out and Natendra Blair contributing with 15 but the match would end in a tie as Tucville also reached 59 but without losing a wicket thanks to solid batting from Alexis Haynes (38) and Aliyah Maynard (16).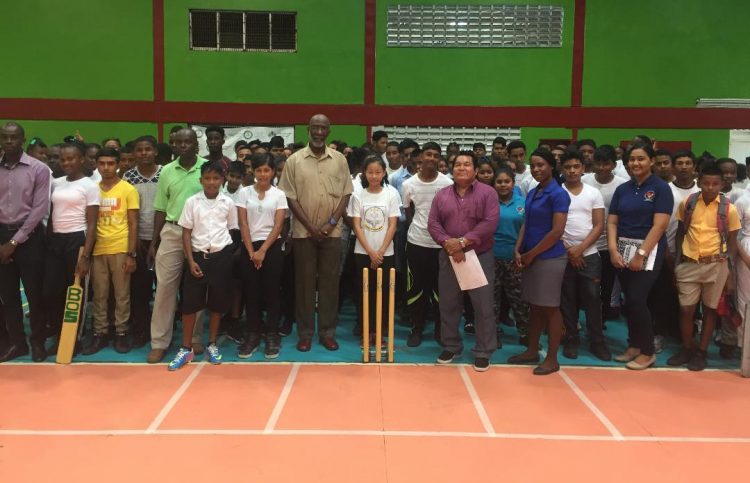 In the boys division, Soesdyke Secondary recorded 68-4 as Jermaine Springer top scored with 20 going down to Diamond Secondary who scored 71 in their five overs. Kenny Johnson's 2-18 was the best bowling figures for Diamond Secondary while openers, Philip Mc Turk (36) and Anil Singh (25) saw them home.
Xenon Academy posted 108-3 but Camille's Institute chased it down losing two wickets with the brutal batting of John Pillay (42 not out) and Feroze Phoenix (22 not out) making light work of the target.
Soesdyke recorded their third defeat of the day after posting 84-2 and seeing Friendship Secondary chasing it down on their way to 87-2.
The tournament is sponsored by All Sports and the Forbes Burnham Found-ation and will see students playing at the same venue periodically over the next few weeks.
Around the Web