Guyana's emerging squash Queen, Taylor Fernandes says her upcoming experience of competing in the 2018 Commonwealth Games in Australia, is paramount above everything else on her journey Down Under.
"For me, it's the experience, I don't really care if I place. I just want to go out there and give of my all. My best," the soft-spoken Fernandes  told Stabroek Sport during an exclusive interview.
She added: "I'll be pushing really hard because I know I'll be playing against people who are in the top 10 in the world rankings."
The expression of 'not caring' though isn't `holiday-ish' as she explained that it is more enveloped in the excitement to measure her skill level against top-ranked players, having done the hard work to get where she is.
"I train every day. I'm actually just returning from the States where I was training with an Egyptian Coach while also working with my main coach, Carl Ince – no one can replace him," she explained.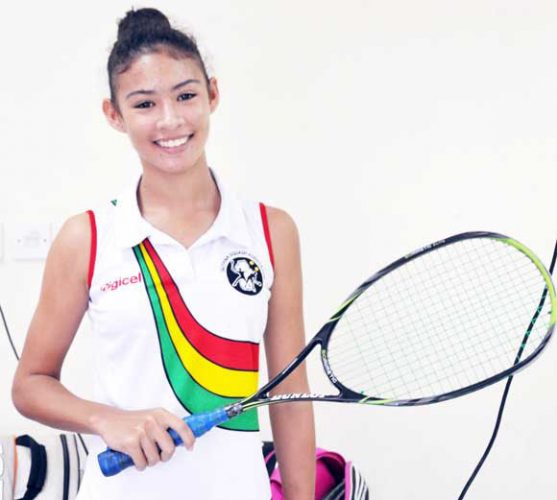 The 19–year-old, who is the reigning Junior Caribbean gold medalist after scrapping past Barbadian Amanda Haywood three sets to two, in what was perhaps the battle of her life last July, revealed that she was somewhat surprised upon learning of her selection.
"It was unexpected, I'm probably one of the youngest players who will be attending but I've been training really hard so I hope that it pays off and I do really well," she articulated.
Fernandes, who is not short of exposure, having represented Guyana throughout each age group category, also experienced the rigours of the Commonwealth Games at the junior level previously.
The Open category at her age though will present a tough challenge if Nicolette Fernandes' loss to Laura Massaro in the 2014 edition is anything to go by.
Taylor, nevertheless, is up for the challenge and looked pretty polished in the just concluded Bounty Farm Limited Handicap tournament even though she lost to the eventual winner, Nyron Joseph.
She struck the ball with immense power and looked tactically sound.
Fernandes, because of her physical structure, possesses all the attributes to become a dominant squash player. Her long leavers aid her striking ability which adds to her provoking ability to reach for difficult balls.
A push to land a spot in the round of 16 would immensely boost her physiological development for the years to come. However, the experience as she rightly indicated, the way she manages disappointments and her ability to recall the highs and lows of each match, are even more important to her overall growth.
Around the Web