The Guyana Beverage Incorporated (GBI) under its Fruta Juice Brand, inked its 20th year of sponsorship with Tucville giant Conquerors FC, during a simple but significant ceremony yesterday at the Red Cross Headquarters, Eve Leary.
The multi-million dollar partnership, includes the provision of uniforms and several pieces of training equipment for the various levels of the renowned club.
Samuel Arjoon, Commercial Manager of GBI, said, "GBI's sponsorship of Fruta Conquerors over the past 20 years is one that should be measured beyond the usual commercial advantages of goodwill within the community, media exposure, increased sales and brand awareness.".
He added: "Sponsorship for us at GBI does not mean just money but focus on the development of young people and our communities; building skills and capacities of the individual player.
He also spoke of the many benefits of the sponsorship.
"I am sure the administrators of Fruta Conquerors can attest to the many accomplishments of this sponsorship. We at GBI are happy when we hear these stories of young people not only becoming physically fit through playing football; also improvement in their school attendance, stories of those young boys and girls who manage to stay away from drug and alcohol, who have become more mindful of their actions and develop healthier minds. As we all know, mental health is becoming a serious issue in our society and football can be used to address many of the issues associated with mental health."
Arjoon said the company was willing to work together with the club towards the development of sports locally.
"The road ahead is tough but we at GBI will hold your hands and we shall walk together towards victory over all the obstacles that inhibits sports development in Guyana," he said.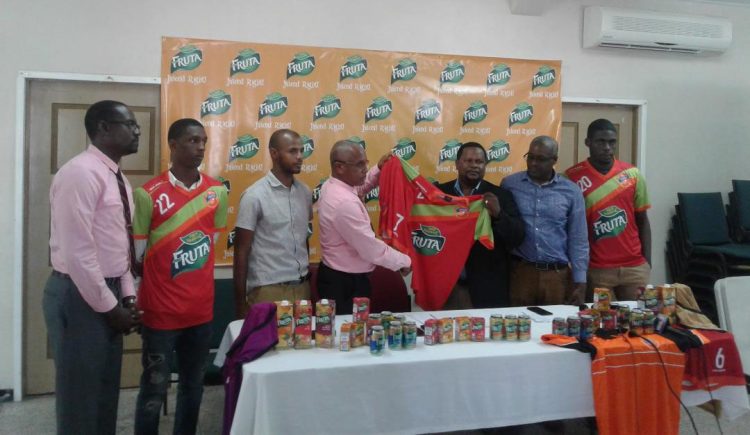 Andre Noel, Category Manager Juices, SM Jaleel, praised the club for its contribution to the country's football landscape, adding that the club and the company have a similar objective which is to nurture the talents of Guyanese at all levels.
He affirmed the company's commitment to the Tucville institution which is heavily geared towards youth development, positing that the entity is looking forward to the continued success of the club.
Meanwhile, Fruta Conquerors Vice-President Colin Gittens said that the club will be undertaking numerous infrastructural development projects such as improving the playing area, lighting systems and modernizing the club house.
In an effort to further expand the club's marketability, supporter jerseys will be for sale at the start of season four of the Elite League.
Receiving the first supporter jersey was club member Duncan Saul.
Around the Web