Titans Table Tennis Club will serve off their inaugural Banks Smalta Supreme Junior Table Tennis tournament tomorrow morning at 9:00 hrs, at the Queen's College Auditorium, on Camp Road.
Expected to feature are some of the country's top junior table tennis players in the Under-Nine, Under-Eleven and Under-Fifteen Boys and Girls, singles and doubles, categories.
Young sensation Thuraia Thomas who recently captured four titles at the Mashramani Junior and Cadet Championships, is once again expected to headline proceedings.
The tournament presents an opportunity to rekindle the exciting battle between National Junior Champion Kaysan Ninvalle and the emerging Jonathan Van Lange, who last Sunday defeated Ninvalle in the Boys Under-15 final. However, Ninvalle rebounded soon after to overturn the tables on his counterpart in the Boys Under-13 final.
Meanwhile, one of the organisers, Titan President Dwain Dick indicated that the primary objective of the tournament is to provide the juniors with the opportunity to match their skills against each other.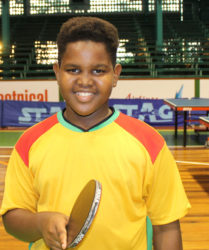 "Our mandate is the have the kids compete in a professional environment," Dick revealed, whilst adding, "One of the things we decided to do is to have several tournaments this year, because the children weren't competitive and they were training and so on."
"So this year what we are trying to have them do is to compete, so that they can measure their level of play against each other and showcase their style of play," Dick, who is also the head coach of the club, noted. He also underlined the hope of securing corporate support for some of the other tournaments lined up for the rest of the year.
The tournament is open to all juniors who fall into the three categories and entrance fee per player is three hundred dollars.
The finals will take place on Sunday and will be followed with the presentation of trophies.
Around the Web