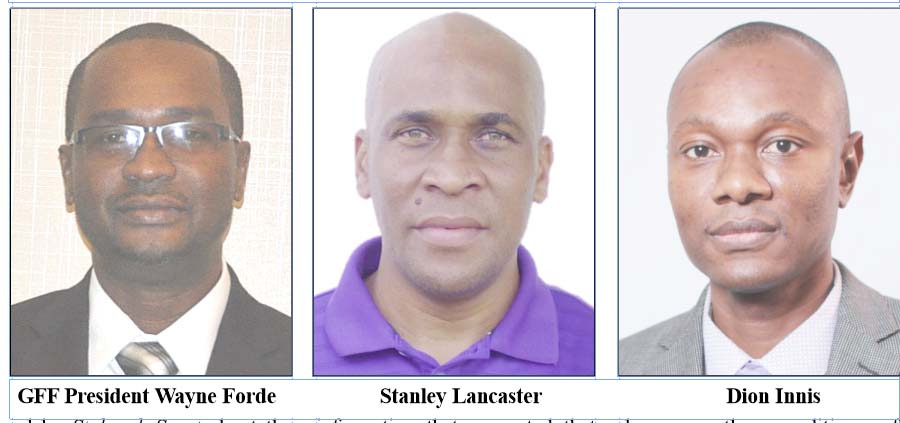 Guyana Football Federation (GFF) President Wayne Forde yesterday acknowledged that he is aware of the letter signed by 17 referees demanding the removal of Head of the Referees Department, Stanley Lancaster.
Stabroek Sport was in touch with the GFF President following the report in yesterday's edition of Stabroek News about the letter.
Forde said, "With regards to the signed letter which refers to the Head of Referees, we are also aware of this situation and will resolve any legitimate allegation through the GFF established human resource policy and protocol."
"The Executive Committee will spare no effort in getting to the bottom of these allegation(s) and shall hold the culpable individuals accountable but must emphasise that at this time, these are simply `allegations'", he said.
He added "It may be useful also to indicate that I am not aware of any written allegation, and/or formal complaint submitted to the General Secretary (Ag)."
While Forde was aware of the letter, the President of the Guyana Football Referees Council (GRFC), Dion Innis, to whom the letter was written, told Stabroek Sport on Wednesday that he had not received the letter.
When Lancaster was contacted by Stabroek Sport about the letter on Wednesday, he said: "I have not received the letter and I can't comment on it. I know of the letter, but I have never received it".
On February 2nd, male and female referees signed the letter, calling for the removal Lancaster, citing alleged unprofessionalism and incompetence amongst other issues. Amongst the criticisms aimed at Lancaster in the letter were victimization, withholding of information and a general dereliction of his duties.
Forde, in his response to Stabroek Sport also said, "The GFF has received unconfirmed information that suggested that the reason for the low percentage of female match officials is the result of an unwholesome Refereeing environment created by unwelcomed advances by some male match officials, in particular. An independent panel has been working on refining the TOR [Terms of Reference] for the inevitable investigation, given its sensitivity and potential impact it may have on the livelihood, reputation and career of individuals, if not handled with the care and objectivity such matters deserve."
Several referees agreed to speak to Stabroek Sport yesterday, on the condition of anonymity. According to one referee, "Everything that was written in the letter is factual. I am aware that the GFF ought to know, all the mails are copied to the GFF President, as he is the chairman of the Referees Committee and nothing is being done."
The sources added, "I don't understand why it is not being dealt with. Referees are suffering, a lot of nonsense going on and we have no representation. The referees are crying out for help. I don't understand why the federation is not helping. We are getting no support, when we write letters, we are hearing that we are trying to undermine the system, and when we speak out we are being victimized."
Another referee stated, "The letter was in circulation, it was a collective letter and the plan was to deliver it to the council, which was what I heard happened. We brought the allegations to the attention of the council. The council represents us and is part of the GFF executive through Dion Innis. That is why we decided to get it to the GFRC and hope they do what is necessary to represent us. I would like to be—lieve that the GFF knows about the letter, but they are trying to keep it quiet though they can't now because it reached into this domain [media]."
Another official said, "They [GFRC] had a meeting with the female referees where they talked about everything. Is this not a formal meeting and a formal complaint? Is Dion Innis not the president of the GFRC and a member of the GFF executive? Of course it should be considered a formal complaint because it was a formal meeting. I don't know what the president is saying… Why is he not meeting with the referees, he has only met with us once since he took office. Parents of referees from Linden have written the GFF on these matters and nothing is being done about it."
Around the Web