National player Chelsea Edghill will not participate in the upcoming Commonwealth Games a close associate of the Guyana Table Tennis Association (GTTA) has revealed.
According to the associate it is highly unlikely that Edghill will participate at the event because of a conflict with her studies.
Edghill who is currently studying abroad will miss the games which is expected to clash with her academic schedule and will see her forfeiting her chances of graduating in 2019 if she heads Down Under.
The associate, who spoke to Stabroek Sports on the condition of anonymity, indicated that the female tennis ace was eager to head to the games and was given the greenlight by her coaches.
However, she was advised against the move by her professors since it places her in a precarious position of missing courses which would see her graduating a year later.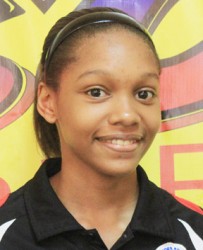 Her regrettable absence nonetheless is expected to land Pricilla Greaves who captured Guyana's lone medal at the 2017 edition of the Junior Caribbean table tennis tournament, the opportunity to take the final female spot on the team.
Greaves, the likely replacement, recently returned from China where she participated in two table tennis camps, a move she made to boost her table tennis credentials.
Stabroek Sports also received word that the remaining delegation would comprise of senior men's national champion Christopher Franklin.
Also featuring in the team will be Shemar Britton who in November of 2017 defeated reigning Caribbean men's Champion Dominican Republic Samuel Galvez three sets to one in the WASA Invitational Open Trinidad and Tobago open TT Championships.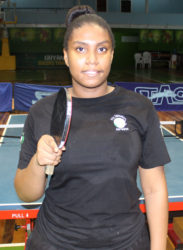 Overseas-based Guyanese Matthew Khan is also in the mix for selection along with Natalie Cummings, Trenace Lowe, Joel Alleyne and Nigel Bryant while GTTA president Godfrey Munroe is expected to act in the capacity of manager/ coach.
Meanwhile, Franklin, Britton, Bryant, Alleyne, Lowe and Cummings are set to warm-up for the rigors of the Commonwealth Games with their participation at the Central America and Caribbean (CAC) Qualifiers set for February 28 – March 3 in Cuba.
Around the Web