As the countdown to the Florida Cup draws closer, Prem's Electrical have thrown their support behind leading softball teams and defending champions, Regal Masters and Regal All Stars for the 2018 season.
Darshani Narine, who spoke on behalf of the company at a simple handing over ceremony at the company's Camp and Alexander Streets location, said that the pioneering electrical company is always willing to lend assistance to anything that will make a positive impact in society especially once it involves youth and sport.
Team Manager, Parmanand Persaud, who received the cheque, expressed much gratitude on behalf of the teams adding that it will help the players to focus solely on playing rather than wondering how they will reach to Orlando.
The undisclosed sum will help the Regal teams prepare for the tournament which is scheduled to run from March 16-18 in Orlando, USA.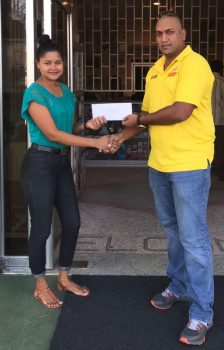 Last year Regal became the first team to capture both titles and they are looking to repeat the feat this year.
The Orlando Cup is a softball tournament that features male teams with players over 45 years old competing in the Masters' category and players of any age rubbing shoulders in the All Star category.
Around the Web