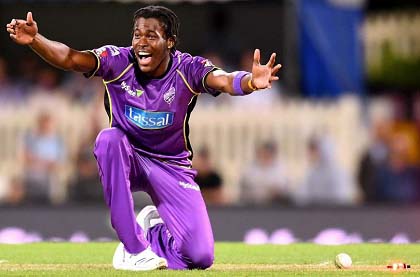 LONDON, CMC – Fast bowling star Jofra Archer says his snub by West Indies selectors for the 2014 Under-19 World Cup fueled his desire to represent England, and has once again shot down any suggestion of representing the Caribbean side.
The 22-year-old Barbadian featured in three matches for the Young Windies on Bangladesh Under-19's tour of the Caribbean in 2013, but failed to make the final cut for the World Cup staged in the United Arab Emirates the following year.
"It wasn't really anything to do with injuries," Archer told the Times about his being overlooked.
"I wasn't selected, so I had to think about what to do next. Once I knew it was an option, it was an easy decision to move to England."
He added: "I was angry with the West Indies, so that helped me with my decision to come and try to play for England."
Though born in Barbados, Archer has a British father and after overcoming a back injury, he moved to England where he landed a deal with Sussex, emerging as their leading bowler last season.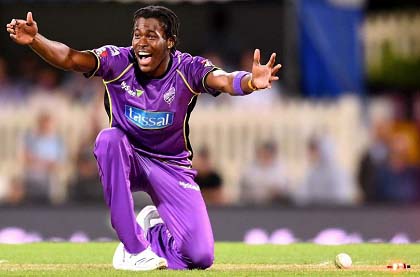 He struck 638 runs and took 61 wickets in the County Championship while scoring 764 runs and grabbing 84 wickets across all three formats, to be adjudged the club's Player-of-the-Year and Young Player-of-the-Year.
Archer was an instant hit for Hobart Hurricanes in the recent Australia Big Bash and promptly re-signed for two years, and Indian Premier League franchise Rajasthan Royals last month paid US$1.13 million for his services in a surprise acquisition.
With the meteoric rise in his career, West Indies have also taken note, with Cricket West Indies chief executive Johnny Grave saying they were hoping to lure the all-rounder, especially ahead of next year's ICC World Cup in England.
"He could play for the West Indies tomorrow and my personal view is that from a career point of view, he would have a better career playing for the West Indies," Grave was quoted as saying last month, while pointing out that Archer would not qualify to represent England until 2022 under England and Wales Cricket Board regulations.
"In sporting terms, 2022 is a lifetime away and he knows that the only way he can play at the 2019 World Cup and the 2020 T20 World Cup is for the West Indies."
However, Archer said he was well aware of the wait involved but said the volume of cricket to be played in the interim would help to properly equip him for the demands of international cricket.
"I can play in the T20 competitions and in county cricket until the time comes," he pointed out.
"The T20 leagues are giving me good experience. If I can keep doing this for another five years, it should stand me well if I get the opportunity to play for England.
"It's teaching me about pressure and hopefully means I won't be nervous if I play international cricket and I will know my game inside and out and can make an impact immediately."
As for Grave's suggestion of changing his mind on representing West Indies?
"No, I'm fine thanks," Archer said.
Comments

(ICC) The ICC Cricket World Cup Qualifier 2018 has thrown up some mouth-watering clashes and it has come down to a situation where even with only four Super Sixes games left, five teams are still in the fray for those top-two spots that will give them tickets to the ICC Cricket World Cup 2019.

(ICC) Having won the ICC Under 19 Cricket World Cup in 2016, Keemo Paul is determined to ensure Windies qualify for next year's senior edition after his unexpected late call-up for the qualifying tournament in Zimbabwe.

With the Georgetown and West Demerara zones completed, the Guinness 'Greatest of the Streets' organisers have now set their sights on the East Coast Demerara leg which is scheduled to kick-off March 28th, at the Haslington Tarmac.

As the month-long celebrations for the former President Dr. Cheddi Jagan continue, the People's Progressive Party/Civic will stage a one off T20 match between a Guyana side and a Trinidad team on March 31.
The Guyana Football Federation (GFF) has shortlisted 21 locally-based players for preparation for the upcoming Caribbean Football Union (CFU) Women's Challenge Series Tournament, scheduled for April.