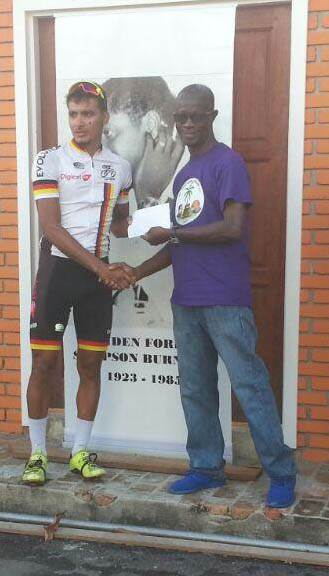 Team Evolution's Paul DeNobrega yesterday battled the weather and his competitors emerging victorious in the Forbes Burnham Memorial three-stage cycle road race.
With an accumulated time of five hours, 23 minutes and 43 seconds (05:23:43) DeNobrega edged rival Jamaul John of Team Cocos who finished two seconds behind DeNobrega.
Meanwhile, one second separated Jornel Yearwood (05:23:48), Walter Grant Stuart (05:23:49) and Paul Choo-Wee-Nam (05:23:50) respectively.
Andrew Hicks (05:23:13) and Enzo Mathews (05:23:45) rounded off the top six positions.
Despite Romello Crawford's second stage win, he was never in contention after a slow start while first stage winner, Michael Anthony, took no further part in the other stages.
Choo-Wee-Nam was named best Masters cyclist followed by Junior Niles, Jaikaran Sookhai, Ralph Williams and Sybourne Fernandes in that order.
Adealie Hodge (06:10:26) did well to win the juniors category ahead of Briton John and Ajay Gopilall.
The event was not short of incidents with a young female who was a part of the support group falling from her motorcycle during the second stage which also saw two riders falling down with one nearly missing a pole on the Linden/Soesdyke Highway. Nevertheless the riders battled home with Crawford unchallenged with four others following in close pursuit. DeNobrega would outsprint John in that second stage.
In the final stage Matthews suffered a bad fall after a collision but managed to complete the stage and emerge sixth overall.
Speaking to DeNobrega after the event, he was elated to be back on top of his game but was wary of the fact that he could do better noting that he did not win any of the stages but placed consistently amongst the pack to secure good timings.
Meanwhile on behalf of the sponsors, the Forbes Burnham Foundation's Vincent Alexander congratulated the riders for their outstanding efforts as well as the organizers for a job well done.
Alexander encouraged the riders to continue to strive for excellence, reminding the younger generation that the late President, Forbes Burnham was very in tune with sports and would have been proud to see the healthy competition in the sport.
Around the Web