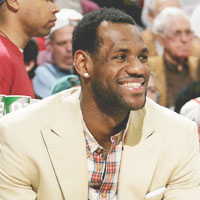 (Reuters) LaMarcus Aldridge scored 27 points and Danny Green added 22 as the San Antonio Spurs did everything right in the final 12 minutes and rolled to a 110-94 win over the Cleveland Cavaliers yesterday afternoon at Quicken Loans Arena in Cleveland, Ohio.
San Antonio opened the fourth quarter with an 11-0 run that produced an 87-74 advantage with 9:22 to play. Cleveland never got within eight points the rest of the way in an anticlimactic finish to what was a close game for three quarters.
LeBron James led all scorers with 33 points and collected 13 rebounds for the Cavaliers, who have lost two of their past three games after winning four straight. Jordan Clarkson tallied 17 points and Jeff Green poured in 14, while Tristan Thompson pulled down 13 rebounds for Cleveland.
The game was the last of six straight road contests in the Spurs' annual Rodeo Road Trip, which is facilitated by the use of the AT&T Center for the San Antonio Livestock Show & Rodeo. San Antonio finished the trip 2-4; Yesterday win snapped a four-game losing streak for the Spurs.
Dejounte Murray scored 13 points and Bryn Forbes added 12 for San Antonio.
James paced all players with 17 points in the first half as the Cavaliers led 53-50 at halftime. Jeff Green added 10 points for Cleveland off the bench and Thompson took 10 rebounds in the first two quarters. The Cavaliers made 45.7 percent of their field goals in the first half and owned a 28-21 edge in rebounding.
Danny Green led the Spurs with 16 points in the first half while Aldridge scored 12 points, with most of that damage was done from the free-throw line, where he was 8 for 8 in the first 24 minutes. Aldridge was just 2 of 8 from the floor over the first two quarters, part of the reason San Antonio shot only 34.9 percent in the half.
A Forbes jumper with 4.3 seconds to play granted the Spurs a 76-74 lead at the end of a back-and-forth third quarter and set the table for San Antonio's run to the victory in the final quarter. Cleveland returns to the court tomorrow when its hosts Brooklyn while the Spurs head home for the first time in three weeks to host New Orleans on Wednesday.
Around the Web