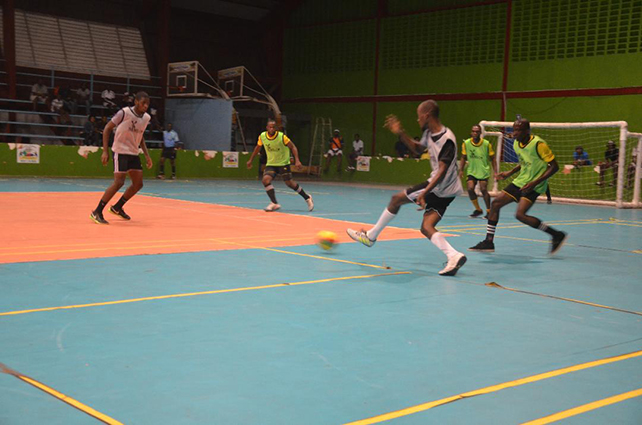 Tiger Bay recorded the first upset on the opening night of the third Petra Organization Futsal Championship by defeating Sparta Boss 3-2 Saturday at the National Gymnasium, Mandela Avenue.
An Alpha Fletchman brace in the sixth and seventh minute along with Deon Alfred's 19th minute conversion completed the come-from-behind win.
For Sparta Boss, Jeremy Garrett and Sheldon Shepherd scored in the first and third minute respectively.
Meanwhile, Future Stars crushed Campbellville Extreme 6-0. Kareem Knights bagged a double in the seventh and ninth minute while Curtez Kellman, Akeemo Anthony, William Europe and Marvin Carter, scored in the 10th, 11th, 13th and 19th minute respectively.
Also, Albouystown downed YMCA 3-1. Moses Grittens, Andre Webber and Melvorn Ross scored in the third, fifth and 11th minute respectively while Wendell St. Hill netted in the first minute for YMCA.
Similarly, Back Circle crushed Broad Street 6-3. Jermaine Beckles tallied a double in the eighth and 10th minute while Selwyn Williams netted a brace in the third and 13th minute.
Adding goals in the fifth and ninth minute were Stephan McLean and Runnel Gordon respectively. For Broad Street,  Akeem Sam, Shawn Mohammed and Jamaal Williams scored in the 14th, 15th and 16th minute respectively.
In the tournament opener, Mocha edged Plaisance 5-4. Steffon Ramsay scored twice in the 3rd and 17th minute, while Dellon John, Teon Jones and Kevin Agard added goals in the second, 15th and 17th minute apiece.
For Plaisance, Akeem Thomas scored in the 16th and 18th minute, while Kevin Liverpool and Denzil King netted in the fourth and 19th minute correspondingly.
Meanwhile, Leopold Street and Alexander Village battled to a 3-3 stalemate. Eon Alleyne, Okanie Fraser and Omallo Williams scored for Leopold Street in the second, 12th and 17th minute respectively.
For Alexander Village, Shem Porter bagged a double in the 11th and 19th minute, while Trevon Thomas scored in the ninth minute. The tournament continues on Tuesday at the same venue.
Around the Web