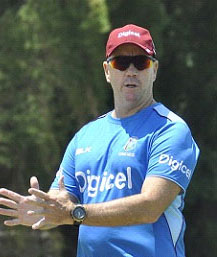 HARARE, Zimbabwe, CMC – West Indies head coach Stuart Law said the side will have to recalibrate its approach to batting in the ICC Cricket World Cup Qualifier 2018 in order to achieve success.
Law was speaking after his side limped their way through two warm-up matches against Afghanistan and United Arab Emirates in which the batting failed to erase concerns about its stability.
"It's not going to be making 300 plus and then bowling teams out," he said. "It's going to be working out how to get to 180 to 220, and then deciding how to get the 10 wickets.
"To be honest, the wickets (in the warm-up matches) weren't as conducive as we want to play and so we will just have to come up with different ways to go about it."
He added: "We do target 300-plus, as we found in New Zealand, that's probably a benchmark score these days in One-Day Internationals.
"Here, we have to lower that target just to make sure we are safe to play better cricket or make better decisions out in the middle and get the job done."
The Qualifier opens tomorrow, but West Indies play their first match on Tuesday against the United Arab Emirates, the side which nearly beat them in the second warm-up match on Thursday.
"The strength of lot of Associate teams is based around spin and the quicks they have seem to be pretty reasonable as well," said Law.
"We can't just go out and blast and dominate against these attacks. We have to be a little smarter to go about it."
He said: "Our bowlers have been consistently taking wickets upfront and we have a good mix of off-spin, left-arm spin and leg-spin. I think it is a well-balanced attack that we take into each game.
"Our quicks are a bit more capable of getting the ball up at high speed, which the Associates don't probably get to see a lot, and this is something that we can use to our advantage. As the event will progress, the wickets will spin more and we have quality spinners as well."
Law however, urged senior batsmen Chris Gayle and Marlon Samuels to take the lead in setting the right tone for the batting.
"You can't buy experience on a shelf," he said. "You need guys in these tough conditions to stand up as well and guide the youngsters through the difficult periods. Then it is just up to the younger or less experienced players to listen, heed the advice and carry forward into their game."
The Qualifier 2018 will produce two sides that will complete the 10-team line-up for the next ICC Cricket World Cup to be played in England and Wales from May 30 to July 14 next year.
Test nations West Indies, hosts Zimbabwe, Afghanistan and Ireland missed out on automatic qualification for the World Cup by finishing outside the top eight on the ICC One-day International Team Rankings at the cut-off date of September 30 last year.
These four sides have been joined by Hong Kong, The Netherlands, Nepal, Scotland, Papua New Guinea and the United Arab Emirates for the Qualifier.
Around the Web