St. Johns College disposed of the defending champions, Cummings Lodge in the Forbes Burnham Easter Term Windball competition yesterday.
Played at the National Gymnasium, St. Johns elected to field first, giving the defending champions first strike in the five over affair. Andrew Samaroo top scored with 42, while Naanjan Ori contributed 37 to the reigning champions' post of 100-2. In reply, St. Johns demolished the target, as Odida Douglas (40) and Gustivaus Hutson (36), saw them advancing to the semi-finals of the Boys category.
In another match up in the Boys division, Mae's Secondary posted 110-3, with A. Boyle hammering 69, which proved too much for Brickdam Secondary, who limped to 68-3, as only Arjoon Ramsundar with 28, displaying any sort of form.
In the Girls division, the opening pair of Tenisha Barrow (83) and A. Williamson (76) carried St. Mary's Secondary to an imposing 164 from their five overs, off of a weak School of the Nations attack. Overwhelmed, they bowed out of the competition with a score of 97-2, with D. Millington top scoring with 32.
The Brickdam Secondary girls, like their male counterparts also suffered a heavy defeat, this time to Kuru Kuru College. Kuru Kuru posted 155, as opener Aiesha Carmichael smacked her second consecutive half century, a fine 74, with Julianna Williams playing the supporting role with 42 not out.
In reply, a lot depended on Gleniss Stephens, who blasted 70, but despite her efforts and Biance McGarrel's 42, Brickdam could only manage 112 in the allotted overs.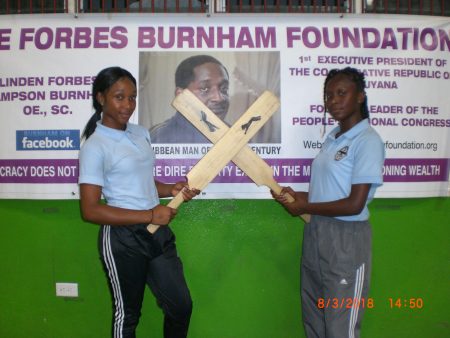 Around the Web