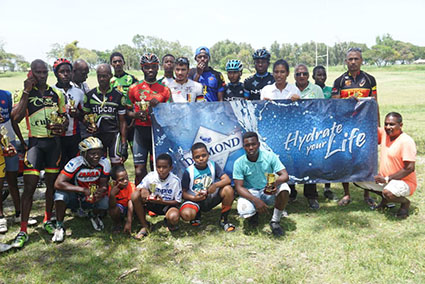 Star cyclist, Hamzah Eastman was a one-man wrecking crew yesterday, demolishing a field of the nation's premier wheelsmen at the National Park en route to soloing to the spoils of the feature 35-lap event of the 13th Diamond Mineral Water multi-race programme.
The standout from Team Coco's lapped all but four other starters to cart off the winner's trophy along with three sprint prizes for the event which was contested in perfect conditions for racing.
Eastman stopped the clock in a brisk one hour, 16 minutes and 39 seconds after attacking his four break away mates in lap 21 and switching to time trial mode.
His heavy solo pacing allowed him to win by almost 1200m from second place finisher and last year's winner, Romello Crawford who out sprinted the remnants of the chase pack. Paul DeNobrega was a close third.
Walter Grant-Stuart, Deeraj Garbarran and Junior Niles followed close behind to fill out the top six rewarding spots.
Eastman will look to continue to winning ways today when cycling action switches to Berbice for the 21st staging of the Cheddi Jagan Memorial road race.
Riders are asked to assemble in front of Freedom House, New Amsterdam, for the official send-off at 09:00h. They will then proceed to Number 55 Village on the Corentyne and return to Port Mourant for the finish.
Meanwhile other winners yesterday included: Jonathan Ramsuchit (BMX Boys and Girls 12-14), Junior Niles (Veterans U-50), Kennard Lovell (Veterans O-50), Adelie Hodge (Juveniles), Jared Barrington (BMX 6-9), Jaheim Henry (BMX 9-12) and Marvin Knight (BMX 12-14)
The programme's, organizer, Hassan Mohamed, congratulated the competitors for making the fixture a success.
He was also in praises of Demerara Distillers Limited for sponsoring the event for the 13th consecutive year.
Around the Web