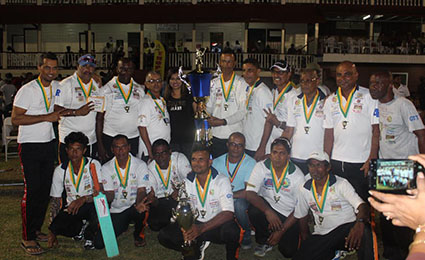 Three Guyanese teams are expected to depart the shores of their homeland for the Orlando Cup later this month while the Guyana Floodlights Softball Cricket Association announced the dates for the Guyana Softball Cup 8.
For the first time, three teams will represent the GFSCA at a major international softball cricket tournament after they were finalized for the second edition of the Orlando Cup which will be played on Friday, Saturday and Sunday next in Orlando Florida, United States of America.
Floodlights will be joined by Floodlights Legends (0ver 50) and Ariel/Speedboat who will be making their first appearance at this international event. Ariel/Speedboat are in good form winning six consecutive tournaments including Guyana Softball Cup 6 and 7.
The association has also announced that "Guyana Softball Cup 8" will be played at grounds in and around Georgetown on October 26, 27 and 28, 2018, the traditional dates. Teams from Orlando, Fort Lauderdale, New York and Canada will join their counterparts in this prestigious tournament. Competition will be held in the Over 45, Over 50 and Open categories.
Ariel/Speedboat – Open: Ricky Sergeant, Vaickesh Dhaniram, Avinash Dhaniran,Anand Bharat, Kishore Kevin Smith, Lennox Walter Mark, Mark Harold, Greg Singh, Shazim Hussain  (Vice Captain), Bepaul Bandoo, Ganesh Narine, Ian Marvin, Ivan Imran Hamid, Devendra Kooblall, Navindra Kooblall, Chien Gittens, Travis Drakes
Floodlights: Lloyd Rooplall, Ramo Malone, Jagdish Persaud, Ramesh Narine Deonarine, Uniss Yusuf, Khemraj Sumair, Clive Canterbury, Robert Mohan, Vishwanauth Lutchman, Mahesh Lutchman, Tulsi Lutchman, Imtiaz Mohamed Saffie, Anil Beharry, Pooran Singh.
Around the Web