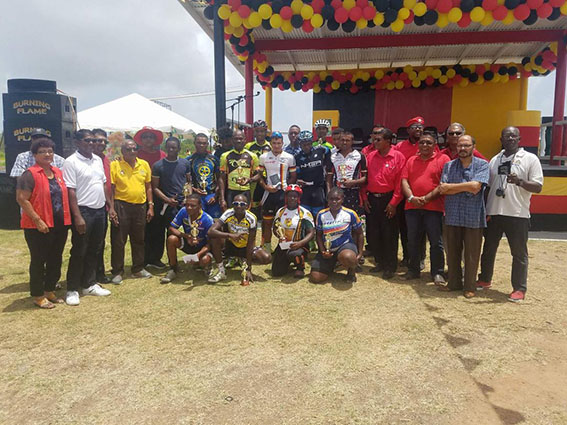 Team Alanis' Alanzo Ambrose yesterday fended off Jamaul John (Cocos) and Andre "Padlock" Greene to win the first leg of the 21st annual Cheddi Jagan Memorial cycling meet in Berbice.
Competing across 53 miles, the riders once arrived at the Ancient County and were treated to sandwiches and hot coffee before the early morning ride which ended with Ambrose crossing the finish line in two hours, 11 minutes and five seconds (02:11:05).
Some 40 riders, including two females, took the starting line in front of Freedom House, New Amsterdam.
Whilst heading over the Canje Bridge, an early spill saw a few of the cyclists falling  to the ground as an early break away saw John, Ambrose, Greene, Paul DeNobrega (Evolution), and Junior Niles (Cocos) leading with Andrew Hicks (We Stand United) and Christopher Griffith having a 30 second gap behind the leaders.
The seven-man pack continued to battle the winds down the Number 19 mile  stretch on their way to Number 51 Village with Veteran Niles turning back early completely unchallenged.
Turning around at the Number 51 Village, the six-man pack rotated the lead well as Griffith and John shared three primes each while Hicks and Niles copped one each.
Heading down to the homestretch to Port Mourant, Ambrose broke away to sprint unchallenged to the waving flag held by Niles as John and Greene completed a photo finish with John's bike throw pipping Greene for second. DeNobrega cruised in for fourth while Hicks and Griffith finished fifth and sixth respectively.
Among the Veterans, Niles continued his undefeated streak in the event with Ian Jackson and Jaikaran Sukhi rounding off the top three.
Briton John, Adelie Hodge and What Gopilall finished the junior category  in that order while Monty Paris was awarded as the only over 60 rider.
In the female category, Shanika Teixeira successfully defended her title against Whitney Poyer.
Notably, there were no mountain bikers.
Speaking at the presentation ceremony at Babu John which commemorates the 100th birth anniversary of the late former president, former Director of Sport, Neil Kumar, congratulated the cyclists for a job well done, noting that the riders look forward to the event every year and is a crucial part on the agenda of the People's Progressive Party/Civic.
Also present at the event were members of the central committee of the party who gave special awards to National Cycling Coach, Hassan Mohammed and Joseph Britton, for their dedication to the development of cycling in Guyana.
Around the Web