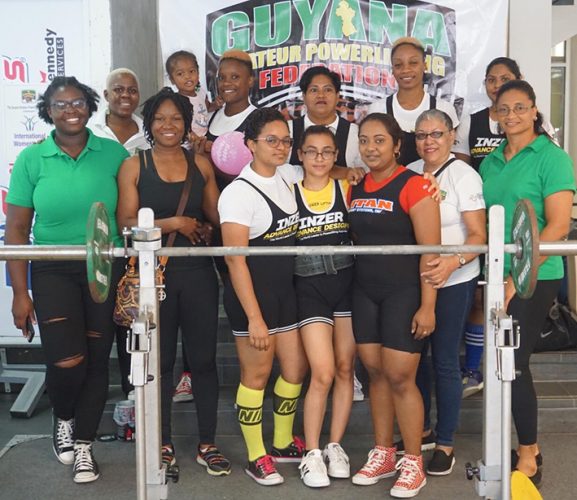 Each year on March 8, International Women's Day (IWD) is celebrated the world over with thousands of events held by women's networks which include global gatherings, conferences, award ceremonies, exhibitions, festivals, fun runs, corporate events, concert performances etc.
This year, the females of the Guyana Powerlifting Federation (GAPLF) played their part in observance of the day by staging a powerlifting exhibition last week at Pollo Tropical on Robb and Camp Streets.
The two-hour event which started at 11:00hrs saw students, mothers, educators, lawyers, accountants and managers performing the various lifts and answering questions to curious onlookers about powerlifting…..
To continue reading this article
Comments

The local CARIFTA Games athletes had their final dress rehearsal yesterday at the National Track and Field Centre ahead of the Easter weekend Games in the Bahamas.

It's official, 20 athletes from seven disciplines will represent Guyana at the XXI Commonwealth Games, commonly known as Gold Coast 2018, which will be held on the Gold Coast, Queensland, Australia between April 4 and 15.

The Demerara Cricket Club (DCC) ended day one of their Georgetown Cricket Association (GCA)/GISE/Star Party Rental/Trophy Stall first division two-day encounter against Everest Cricket (ECC) on 194 – 6, trailing by 88 runs at  stumps at the DCC ground.

A new champion will be crowned in the Milo Secondary Schools football tournament after three-time defending champions Chase Academy was dethroned losing to Sir Leon Lessons  0-1  in the quarter-final round yesterday.

Western Tigers climbed atop the Guyana Football Federation (GFF) Elite League standings while Fruta Conquerors moved into the second position following contrasting wins on Friday at the Georgetown Football Club (GFC) ground, Bourda.