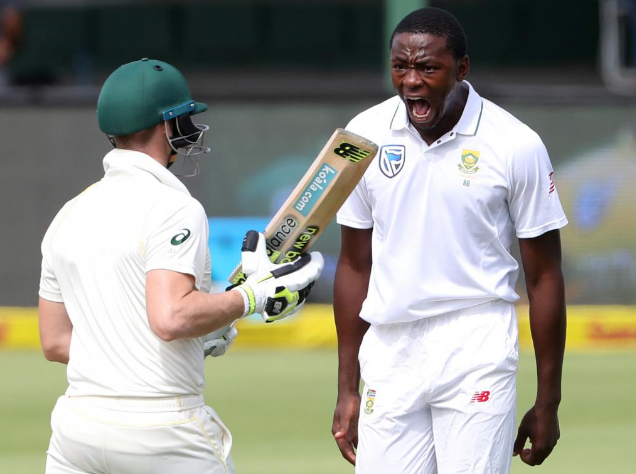 PORT ELIZABETH, South Africa,  (Reuters) – South Africa fast bowler Kagiso Rabada was suspended for two test matches and will miss the rest of the series against Australia, hours after being named man of the match in his team's six-wicket win in the second test yesterday.
Rabada was found guilty of a level two International Cricket Council (ICC) code of conduct offence of "inappropriate and deliberate physical contact with a player" after leaning with his shoulder into Australia captain Steve Smith when he dismissed him in the first innings, an ICC statement said.
The 22-year-old Rabada, who took 11 wickets to help South Africa level the series 1-1, was fined 50 percent of his match fee and given three demerit points, which took him past the tally of eight that triggers an automatic suspension.
Cricket South Africa said it was seeking legal counsel about a possible appeal that could potentially make Rabada available for the next test in Cape Town, which starts on March 22.
"I found that there was contact between Rabada and Smith, and in my judgement the contact by Rabada was inappropriate, and deliberate," match referee Jeff Crowe said in an ICC news release.
"He had the opportunity to avoid the contact and I could not see any evidence to support the argument that the contact was accidental.
"It is also disappointing that this has happened the day after the pre-match meeting I had with both teams, where the importance of respect for opponents was highlighted."
Rabada also accepted a second level one charge of "using language, actions or gestures which could provoke an aggressive reaction from a batsman upon his dismissal" in his send-off to David Warner after dismissing the Australian opener on Sunday.
Rabada received a further 15 percent deduction of his match fee and an additional demerit point.
In an increasingly acrimonious series during which Warner, Australia spinner Nathan Lyon and South Africa wicketkeeper Quinton de Kock have also been punished by the ICC, Mitchell Marsh was added to that list yesterday.
The Australia all-rounder was fined 20 percent of his match fee and handed one demerit point for a level one offence of "using language or gesture that is obscene, offensive or insulting".
He was caught on camera swearing at Rabada after being dismissed early on the fourth morning.
Rabada missed the second test against England last year having reached four demerit points.
Comments

The local CARIFTA Games athletes had their final dress rehearsal yesterday at the National Track and Field Centre ahead of the Easter weekend Games in the Bahamas.

It's official, 20 athletes from seven disciplines will represent Guyana at the XXI Commonwealth Games, commonly known as Gold Coast 2018, which will be held on the Gold Coast, Queensland, Australia between April 4 and 15.

The Demerara Cricket Club (DCC) ended day one of their Georgetown Cricket Association (GCA)/GISE/Star Party Rental/Trophy Stall first division two-day encounter against Everest Cricket (ECC) on 194 – 6, trailing by 88 runs at  stumps at the DCC ground.

A new champion will be crowned in the Milo Secondary Schools football tournament after three-time defending champions Chase Academy was dethroned losing to Sir Leon Lessons  0-1  in the quarter-final round yesterday.

Western Tigers climbed atop the Guyana Football Federation (GFF) Elite League standings while Fruta Conquerors moved into the second position following contrasting wins on Friday at the Georgetown Football Club (GFC) ground, Bourda.