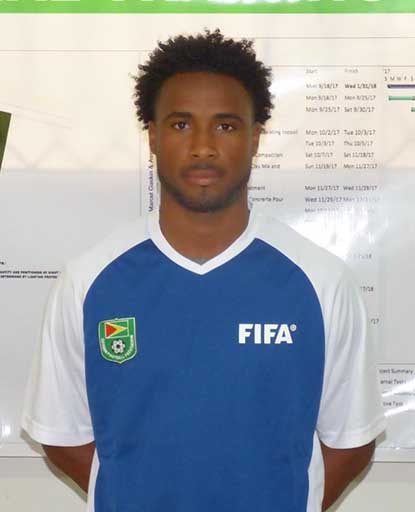 The Guyana Football Federation (GFF) has appointed Golden Jaguars International Vurlon Mills as a Technical Development Officer (TDO), assigned to the Scotiabank Academy Training Centre (ATC).
The attacking midfielder will be responsible for ensuring the national philosophy is instilled in players of the Georgetown ATC.
Ian Greenwood, Technical Director of the GFF, said, "Engaging current and former national team players is a key component in our coach development and recruitment drive. Their understanding of regional and international football combined with GFF Technical Department training make them ideal candidates to deliver at the nationwide Academy Training Centres. Not all players have the ability to transition from player to educator but Vurlon certainly has those attributes. He has the temperament and enthusiasm to inspire a new generation of players from grassroots to senior football on the GFF player pathway. We feel he is a great addition to our ever growing bank of licensed and qualified coaches."
Meanwhile, Mills during brief remarks, said, "It is an honour to serve as the Technical Development Officer assigned to the Georgetown GFF-Scotiabank ATC. There are very talented players around and I believe with the right technical guidance, they will realize their potential. I have skills, which are transferable and can help them in their development and ultimate selection to the national squad. That makes me excited to serve, knowing that I'll make a long-term difference to their life."
The ATCs are a pathway to national team selection where players learn the necessary skills and attributes by certified coaches assigned. Sessions are conducted on a weekly basis in the nine Regional Member Associations (RMAs).
Around the Web