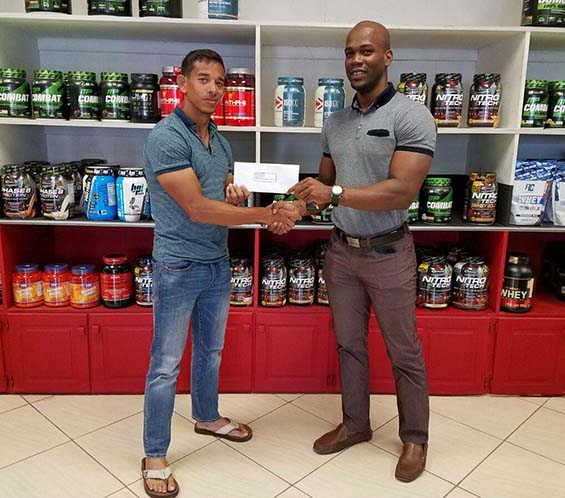 As customary, Fitness Express has answered the call of the Guyana Bodybuilding and Fitness Federation Inc. (GBBFFI).
The long standing benefactor of the federation has once again agreed to be one of the main sponsors of the annual Novices Championships scheduled for April 8 at the National Cultural Centre.
During a simple ceremony recently at the entity's 47 John and Sheriff Streets location, its CEO, Jamie McDonald presented a cheque for a substantial sum to GBBFFI President, Coel Marks.
The funds will be used to offset some of the expenses of the event which commences at 19:00hrs.
For the fourth year on the Novices stage, the highly anticipated Men's Physique segment will be contested along with the customary bodybuilding categories, Ms. Bikini and Ms. Body Fitness categories.
This year's event promises to be of a higher standard since many of the athletes have been through months of gruelling contest preparation.
According to Marks, "in excess of 20 athletes, inclusive of six females will be on the stage displaying their physiques." Admission to the venue is $1500.
The other notable sponsor onboard so far is the GBBFFI.
Around the Web