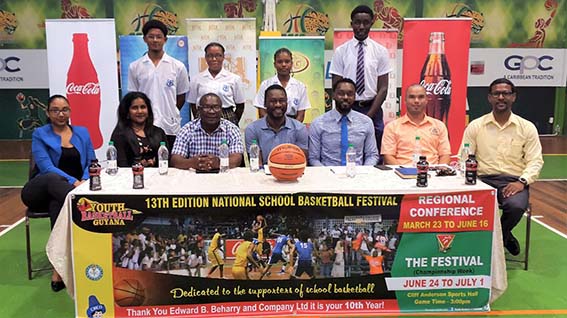 The 13th annual National Schools Basketball Festival (NSBF) was officially launched yesterday at the Cliff Anderson Sports Hall, Homestretch Avenue.
The event, which is coordinated by the Youth Basketball Guyana (YBG) organization, commences March 23rd with the Regional Conference.
This section concludes June 16th, while the 'Championship Week' aspect of the competition will run from June 24th-July 1st with the eventual winner to be crowned the National Champion.
Chris Bowman, Co-Director of YBG, yesterday commended the support afforded the event from the Beharry Group of Companies and Banks DIH Limited. This is the 10th year of association for the Beharry Group of Companies, while Banks DIH Limited has been a partner for nine years.
"This is indeed a noteworthy accomplishment in this environment where sponsorship and support for healthy, valuable youth alternatives are far and few," said Bowman.
He added: "We should expect to see the continued acceleration of female basketball. Female basketball has been a very bright spot in school basketball over the last few years."
Director of Sports Christopher Jones applauded the coordinators for providing the ideal platform for the players to display their talents, adding, "We recognized that when they would have started some years ago they would have only been able to identify or work with a few regions. But over time, that has broadened and more regions are now onboard.
"The National Sports Commission, as I mentioned before, is excited to partner with YBG because we recognize that if you want to look at the long-term development of this particular discipline you have to start at the grassroots level," he added.
Meanwhile, Chico and Champion Brand Manager Reena Williams stated that her company is proud to be onboard with the event for the 10th year, declaring that the long partnership illustrates their commitment to the development of youth and sports.
Similarly, Banks DIH Communication Director, Troy Peters, pledged his company's continued support of the tournament, declaring that the entity is synonymous with sports development while Ministry of Education's Unit of Allied Arts representative, Nicholas Fraser, declared that the ministry is committed to supporting the event.
Around the Web