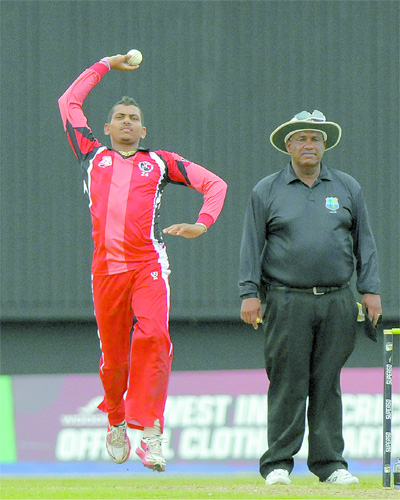 West Indian spinner Sunil Narine's bowling action was again reported on Thursday, during the ongoing Pakistan Super League (PSL) Twenty 20, according to an AFP news bulletin.
"Narine has been reported for a suspected illegal bowling action during Wednesday's PSL Twenty20 game between Lahore Qalanders and Quetta Gladiators at Sharjah," said a Pakistan Cricket Board statement.
"The match officials' report on Narine's bowling action will be sent to Cricket West Indies (CWI) and he will have to go through the process that is followed by the CWI, for suspected illegal bowling actions," the statement continued.
According to the AFP release, the 29-year-old Narine, who plays for the Lahore Qalandars, was placed on the warning list, but can continue to participate in the tournament. He was first reported for an illegal action during the Champions League in India in 2014, and as a precaution, his name was withdrawn from the West Indies squad for the 2015 World Cup. He returned to the game after remodeling his action.
Narine was subsequently reported in November, 2016 during an international match in Sri Lanka, the AFP release stated. He was suspended after biomechanical tests proved that his action was beyond the fifteen (15) degree limit allowed under the International Cricket Council's rules.
Narine was cleared in April 2017, in time for the Indian Premier League (IPL), where he plays for Kolkatta Knight Riders. This latest report may jeopardise his participation in this year's IPL season, starting early next month. Sunil Narine has played six Tests, 65 One Day Internationals and 48 Twenty20s
Around the Web