The second annual U14 Indoor Hockey League heads into the quarterfinal round today with Saints and GCC leading the Girls tables, while Saints and Hikers sit atop the Boys pools.
This year the League's sponsor Ansa McAl, added iCool Water to the brand Smalta, to promote the Guyana Hockey Board's efforts in developing junior hockey in Guyana.  Despite only being its second year, the league has seen considerable growth with six new teams being added between the Boys' and Girls' Divisions, while School of Nations and North Ruimveldt Multilateral School were added as venues.
Being the only GHB event to be held within schools, matches are alternated each week between each of the participating schools.  It is a 4-aside format with a maximum of 10 registered players per team. and includes teams from Hikers (HHC), Old Fort, GCC, Saint Stanislaus College (SHC), Marian Academy, St Joseph's High School and North Ruimveldt Multilateral School.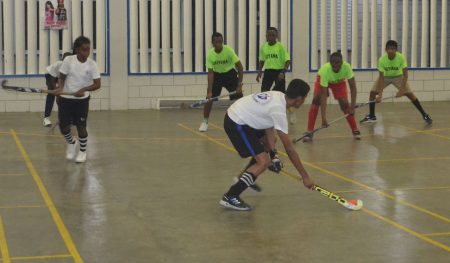 The quarterfinals will see last year's champs Marian Academy and HHC Team Uzzi (renamed from HHC Garnett Street) attempt to battle their way back to the finals.
Today's games will be played at the North Ruimveldt Multilateral School starting from 4:25 pm.
The Finals will be held next week at Marian Academy. (Courtesy of GHB)


Around the Web