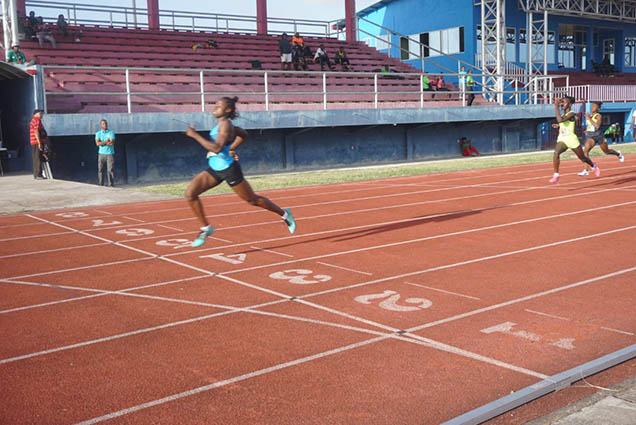 The local CARIFTA Games athletes had their final dress rehearsal yesterday at the National Track and Field Centre ahead of the Easter weekend Games in the Bahamas.
The Athletic Association of Guyana (AAG) hosted the event to enable the cream of the youth and junior athletic crop to get their competitive juices flowing before departing to the host nation next Wednesday.
Medal hopefuls like Deshanna Skeete, Chantoba Bright, Daniel Williams, Murphy Nash, Joanna Archer and Kenisha Phillips were all on show getting in their final competitive warm ups on the synthetic surface.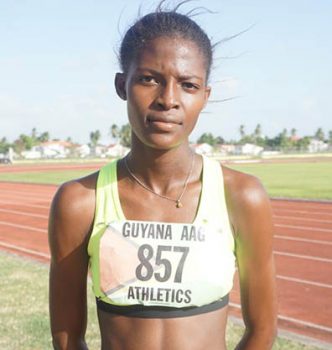 Eighteen (18) athletes were named to represent the Golden Arrowhead at the 47th edition of the prestigious Games.
10 athletes qualified locally using the AAG's standard while three are USA based. The remaining (Phillips, Archer, Kissanna Glen, Kezra Murray and Cordell Charles) narrowly missed the qualifying standard two weeks ago but according to AAG's President, Aubrey Hutson "have great potential and with time we feel they can bring their times down."
Yesterday, Archer was most impressive, shaving off almost three seconds off her 800m time recorded two weeks ago. She clocked a personal best 2m:13.70s, a huge confidence booster heading into the Games.
Meanwhile, Phillips is also peaking at the right time after running a personal best of 23.91s in the 200m event yesterday.
Team composition is:
Upper Demerara Schools
Chantoba Bright (Long Jump Girls U 20)
Daniel Williams (200m and 400m Boys U 20)
Christianburg Wismar Secondary School
Jermaine Simmons (Shot Put U 20)
Tremayne Brown (Long Jump U 20)
Deshanna Skeete (200m and 400m Girls U 17)
Shaquka Tyrell (1500m Girls U 17)
Murphy Nash (3000m Boys Open)
United States of America based
Onasha Rogers (100m Girls U 20)
Avon Samuels (200m and 400m Girls U 20)
Claudrice McKoy (1500m U20 and 3000m Open)
Running Brave Athletic Club
Kenisha Phillips (100m and 200m Girls U 20)
Princess Brown (Triple Jump Girls U 17)
Police
Joanna Archer (800m and 1500m Girls U 20)
Kezra Murray (800m U 20)
Torique Boyce (High Jump Boys U 20)
Anthony Williams (Long and Triple Jump Boys U 20)
Super Up-coming Runners
Cordell Charles (1500m U 17 and 3000m Open)
De Challengers
Kissanna Glen (800m and 1500m U 17)
Mayfield Taylor-Trim was named as Team Manager while Moses Pantlitz and Niall Stanton were selected as the coaches.
The Bahamas is set to host the 2018 CARIFTA Games from March 31 to April 2 at the Thomas A. Robinson National Stadium.
This year's Games will see the Bahamas hosting 26 countries and 500 athletes. It will consist of 400 volunteers and about 150 Bahamian and international officials. It is the premier track and field junior competition in the region.
Around the Web