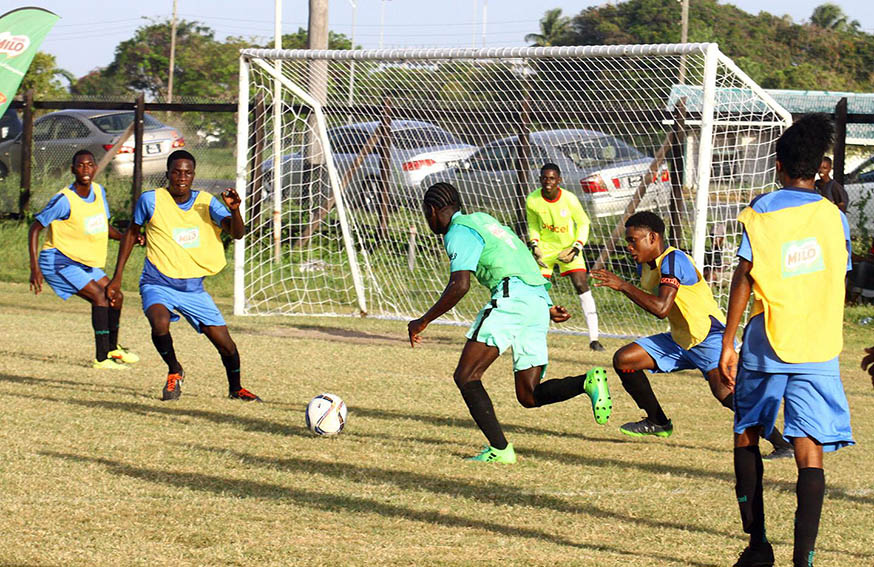 A new champion will be crowned in the Milo Secondary Schools football tournament after three-time defending champions Chase Academy was dethroned losing to Sir Leon Lessons  0-1  in the quarter-final round yesterday.
In the match played at the Ministry of Education ground, Carifesta Avenue, Teon Forde inflicted the first competitive loss for the Kingston-based unit in three years, racing into the penalty area and thumping his effort beyond custodian Simeon Hackett into the bottom corner in the 78th minute.
Meanwhile, Buxton Youth Developers sealed their berth to the semi-final round crushing Masters Academy 4-0.
Teshawn Gordon recorded a hat-trick in the 45th, 78th and 83rd minute while Shamar Scott netted in the 27th minute. The tournament continues today at the same venue with the remaining quarterfinal matches.
At 14:00hrs, former champion Lodge Secondary lock horns with Pure Masters, while Morgan Learning Centre opposes Annandale Secondary from 16:00hrs. The respective winners will advance to the semi-final round.
Complete Results
Game-1
Buxton Youth Developers-4 vs Masters-0
Teshawn Gordon-45th, 78th and 83rd
Shamar Scott-27th
Game-2
Sir Leon Lessons-1 vs Chase Academy-0
Teon Forde-78th
Around the Web