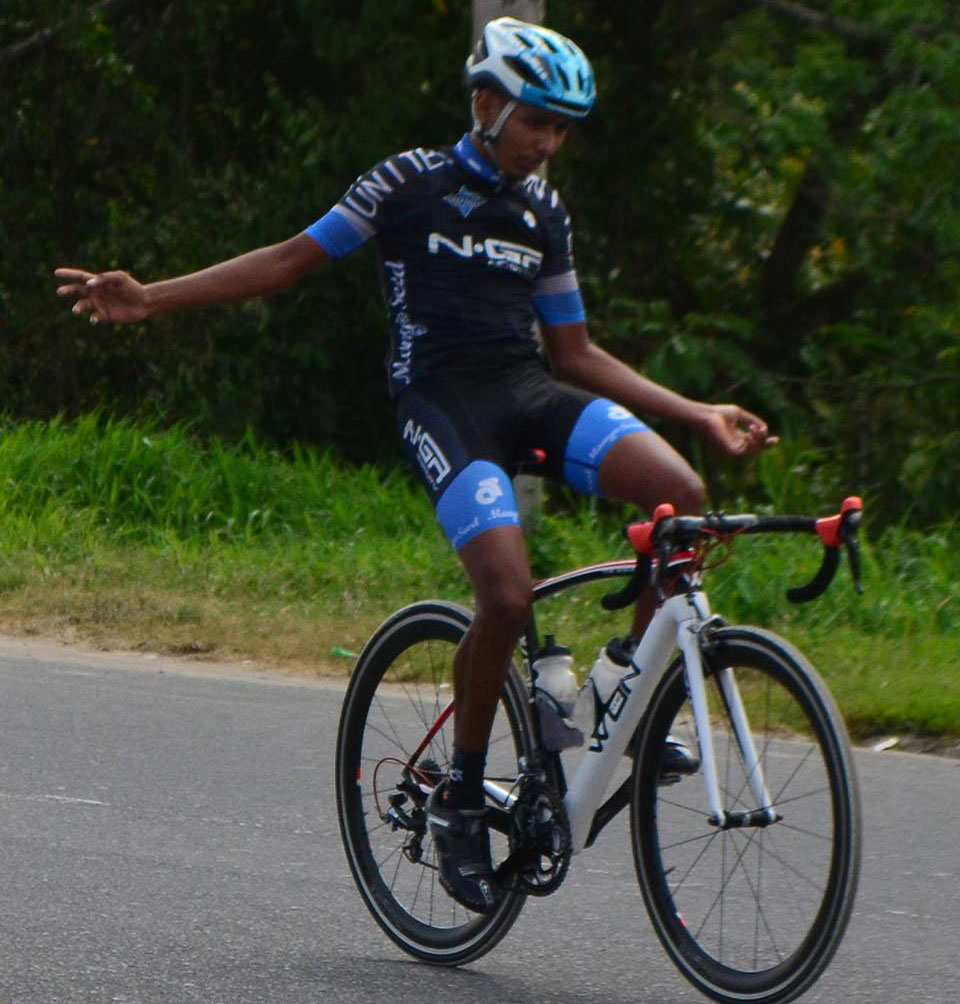 `We Stand United's' Deeraj Garbarran won his first major cycle race when he won the ninth annual  Cheddi Jagan Memorial Road race second leg yesterday.
Battling the exceptionally hot morning on the West Demerara roads, 42 riders from five categories took to the starting line at Wales and duly  proceeded on the 53-mile journey to Bushy Park and back to Schoonord for the finish.
Garbarran triumphed in a solo ride to the checkered flag in a time of one hour 39 minutes and four seconds (01:34:04) which shaved off 15 minutes from last year's timings.
Garbarran took charge from the Crane turn heading onto the Vreed-en-Hoop main road and extended the lead from the nine-man chasing pack to as much as 300 metres as the home stretched approached and, with open arms, he sailed over the white line.
The 20-year-old Garbarran, in an exclusive comment to Stabroek Sport, said it felt good to have his first win having been in the sport since the junior level. He explained that this was always in the making after a few good finishes and warned the other riders that he will be coming hard in upcoming races.
Coming in second was differently-abled Continental wheelsman, Walter Grant-Stuart, while first leg winner, Alanzo Ambrose, (Alanis) outsprinted the four-man pack to cop third place.
Last year's winner, Jamual John and his veteran Cocos team mate, Junior Niles, were fourth and fifth respectively while Curtis Dey placed sixth.
Niles won the Veterans division with Raymond Newton and Alexis Mendes trailing in that order while Briton John continued his dominance in the junior division with Adelie Hodge and Gopilall second and third.
Shenika Teixeira was the lone female riders while Montgomery Paris was the eldest rider at 71 years.
Speaking at the presentation ceremony, Bibi Shaddick, who represented the sponsors, Bibi Shaddick and Family, said it was wonderful to see all of the riders turning out, noting that it said a lot for sports in the county while encouraging them to continue to press for excellence.
Organizer and National Cycling Coach, Hassan Mohammed added that the event was injury free despite a few hurdles and thanked all the participants and supporters who turned out for the event.
Notably, UCI C1 para-cycling bound Grant-Stuart received a few sponsored items presented to him by Ashley Branker on behalf of Collective Cycling.
This marks the 21st death anniversary and 100th birth Anniversary of former president Dr. Cheddi Jagan.
Around the Web