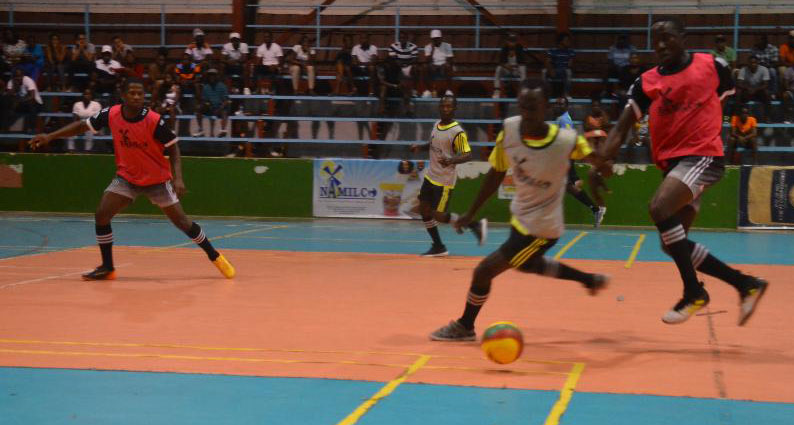 Sparta Boss, Gold is Money, Tiger Bay and Leopold Street sealed their berths to the quarterfinal round following round of 16 wins, when the Petra Organization Futsal Championship continued on Saturday at the National Gymnasium, Mandela Avenue.
Sparta Boss dismissed Albouystown 5-1. Courtney Britton, Keyon Richards, Gregory Richardson, Quincy Adams and Sheldon Shepherd scored in the sixth, ninth, 12th, 13th and 18th minute respectively.
Moses Grittens scored for Albouystown in the third minute. Similarly, Gold is Money pounded Alexander Village 8-2. Jamal Pedro recorded a hat-trick in the eighth, 14th and 20th minute, while Randolph Wagner added a double in the second and fifth minute.
Assisting with goals in the 10th, 12th and 20th minute were Michael Pedro, Hubert Pedro and Colin Nelson.
For Alexander Village, Shem Porter and Leon Yaw scored in the 16th and 17th minute apiece.
Tiger Bay whipped Xtreme Campbellville 8-1. Deon Alfred bagged a helmet-trick in the eighth, 11th, 12th and 18th, Orin Moore, Jermaine Scott, Kerwin Heywood and James Meredith scored in the 13th, 16th, 17th and 18th minute each.
For Xtreme Campbell-ville, Carl Griffith netted in the sixth minute. Leopold Street downed Showstop-pers 8-4 led by a five goal blitz from Eon Alleyne in the first, sixth, 12th, 13th and 18th minute.
Contributing a double was Omallo Williams in the 14th and 19th minute, while Darren Benjamin netted in the second minute. For the loser, Dexroy Adams scored in the third and fifth minute, while Trayon Bobb netted in the eighth and 11th minute.
The tournament continues on Saturday at the same venue. At 20:30hrs, Tiger Bay opposes Bent Street while Gold is Money battles Leopold Street from 21:45hrs.
The third fixture pits Alpha Warriors against California Square from 22:30hrs while Future Stars will engage Sparta Boss at 23:15hrs.
Around the Web