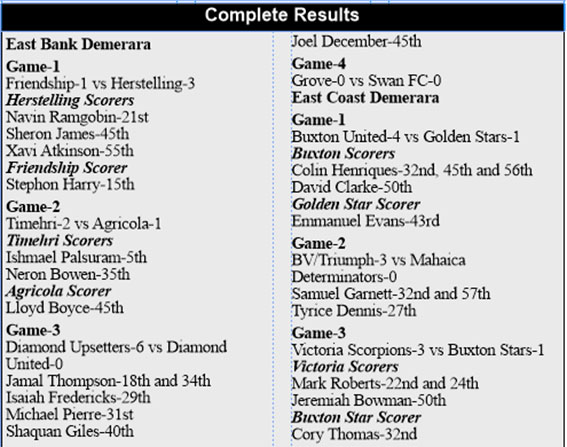 Diamond Upsetters, Herstelling Raiders and Timehri Panthers won their respective match-ups when the East Bank Demerara section of the Frank Watson Memorial U15 Football League, continued Saturday at the Timehri ground.
Diamond Upsetters crushed Diamond United 6-0. Jamal Thompson bagged a brace in the 18th and 34th minute while  Isaiah Fredericks, Michael Pierre, Shaquan Giles and Joel December, scored in the 29th, 31st, 40th and 45th minute respectively.
Meanwhile, Herstelling Raiders downed Friendship 3-1. Navin Ramgobin, Sheron James and Xavi Atkinson scored in the 21st, 45th and 55th minute respectively.
For Friendship, Stephon Harry netted in the 15th minute.
In another fixture, Timehri edged Agricola 2-1. Ishmael Palsuram and Neron Bowen scored in the fifth and 35thminute.
On target in the loss was Lloyd Boyce in the 45th minute.
Grove Hi-Tech and Swan FC battled to a scoreless draw while over  at the Golden Grove ground in the East Coast Demerara zone, Buxton United crushed home side Golden Stars 4-1. Colin Henriques recorded a hat-trick in the 32nd, 45th and 56th minute, while David Clarke scored in the 50th minute.
On target for Golden Stars was Emmanuel Evans in the 43rd minute.
Beterverwagting (BV)/Triumph dismissed Mahaica Determinators 3-0 with Samuel Garnett fashioning a double in the 32nd and 57th minute while Tyrice Dennis scored in the 27th minute.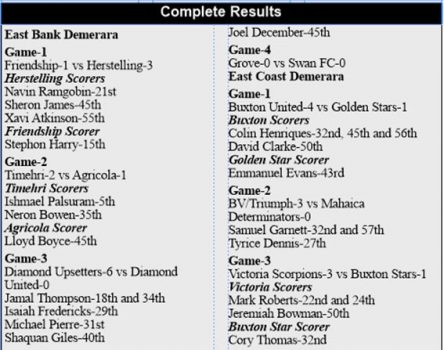 Victoria Scorpions downed Buxton Stars 3-1 with Mark Roberts bagging a double in the 22nd and 24th minute while Jeremiah Bowman netted in the 50th minute. For Buxton Stars, Cory Thomas scored in the 32nd minute.
Around the Web