National badminton players, Priyanna Ramdhani and Jonathan Mangra are scheduled to enter a High Performance training camp in Guatemala later this month.'
The "Road to Barranquilla" in Ciudad de Guatemala will run from March 21- April 22.
The camp, which is organised by the PanAm Sports and Badminton PanAm Confederation has been endorsed by the Guyana Olympic Association and will see world ranked players from the Pan American region participating,  a release from the Guyana Badminton Association (GBA) stated.
According to the release because Narayan and Priyanna ramdhani are rated in the world Guyana was offered two spots and since Narayan Ramdhani is scheduled to attend the upcoming Commonwealth Games from April 4-15, Mangra, the number two local male player was chosen.
The camp, the release stated, will benefit the Guyanese players as it will give them ranking points and a place on the CAC Games scheduled to take place in Colombia in July.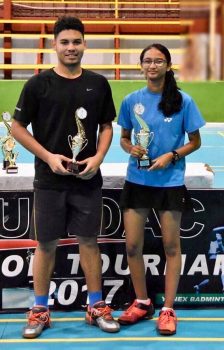 Around the Web