HARARE, Zimbabwe,  CMC – Captain Jason Holder said West Indies had deserved the slice of luck which came their way, though they had been confident of defending their modest total, in yesterday's do-or-die Super Six match against Scotland.
Needing to win in order to qualify for next year's World Cup in England, West Indies were dismissed for a disappointing 198 in the penultimate over.
With the game in the balance, the light rain, which halted play with Scotland 125 for five in the 36th over, then became persistent and heavy, wrecking any remaining hopes of a resumption at Harare Sports Club, and leaving the Scots five runs shy of the Duckworth-Lewis-Stern par score of 130.
Afterwards, a relieved Holder said he had no idea when the weather stopped play that it would have ended the contest premaurely.
"I was actually shocked to be honest. I knew there was some rain about but I didn't actually think it would end the game. Then to see the amount of rain that fell, it was actually quite shocking," the all-rounder said.
"But I guess some things have to go our way at certain times. We have endured some really tough times in the last few years and to get some luck at some stage is pretty good."
He added: "At the half-way stage, seeing how the pitch played, I felt we had enough and it was just a matter of having a good new-ball burst. We saw what Scotland did with their new ball and we thought we could've done the same and make things hard for their middle order.
"Maybe 200 would have looked psychologically a lot better but seeing how the pitch played, and it was a fresh wicket where the ball went through and there was a little tackiness up front and the ball holding up a little in the pitch, I knew anywhere around 200 would have been enough."
Opener Evin Lewis top-scored with 64 and Marlon Samuels weighed in with a valuable 51, putting on 121 for the third wicket to pull West Indies out of trouble at two for two in the third over.
However, the innings fell away badly once they were separated, with the last eight wickets tumbling for 75 runs.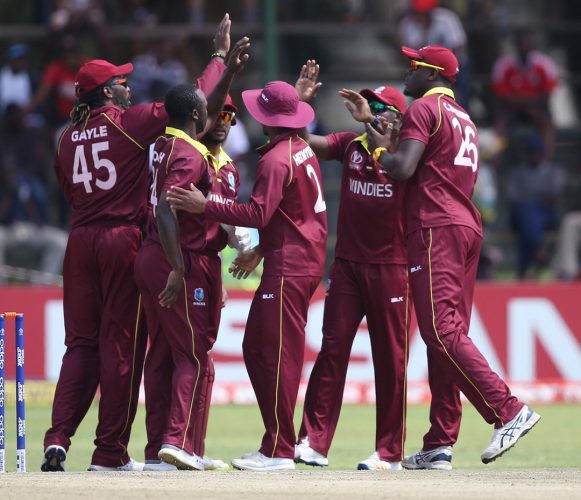 The Windies bowlers also started strongly, reducing Scotland to 25 for three in the seventh over and then keeping a lid on the scoring despite a couple of defiant partnerships in the middle.
Holder said the Caribbean side was  yet to pull the ideal game together and were now hoping to execute for the final.
"[There were] one or two boundary balls when we bowled that we could've probably tightened up on but good shots do play in cricket and we must respect that as well," Holder pointed out.
"We were half decent in the field. We could've held on to one or two half chances and made things a lot easier for us but all in all, I don't think we've played the perfect cricket game here in this competition so far and still been able to win games.
"My message to the guys in the dressing room is to look to play the perfect final."
Despite entering the qualifying tournament as hot favourites, the Windies endured some nervous moments against several of the so-called minnows, en route to finishing the preliminary round unbeaten.
They were felled by Afghanistan in their opening Super Six match last week, forced to complete their fifth highest run chase in ODIs to beat Zimbabwe on Monday before overcoming Scotland.
Holder said the success had been testament to the attitude and commitment of the side.
"I'm definitely relieved. Coming into this tournament, being here for the first time in a World Cup qualifier and knowing what was at stake, I was just really pleased to see how the guys responded," he explained.
"It was one of the better times that we really came together as a squad and everybody put their heads together to try to do what's best for West Indies cricket and what's best for ourselves.
"I can't see two or three individuals dominating in every single game – it was a strong collective effort most of the time in every game which we've won, and that's a strong sign of a good side."
Hosts Zimbabwe can join West Indies in Sunday's final and in next year's World Cup, once they defeat United Arab Emirates today.
Around the Web