The 2018 cycling season will resume tomorrow in the National Park with the staging of the Fifth Annual Star Party Rental 11-race programme.
According to organizer of the event, Hassan Mohamed, the day's activities are scheduled to pedal off at 09:00hrs.
The event will be headlined with the 35-lap open race which was won by Andre 'Padlock' Green last year.
The Berbice based rider took the spoils in a time of one hour, 15 minutes and 38 seconds.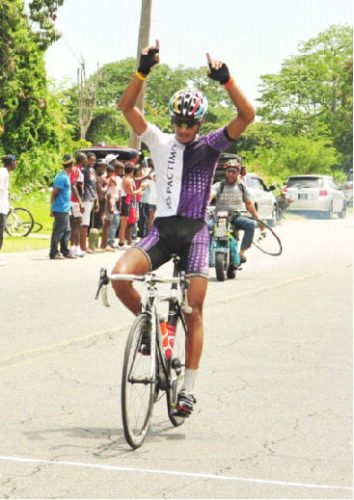 Green however has been searching for a winning formula and will be hard pressed to repeat since Hamzah Eastman, Romello Crawford, Jamal John and Paul DeNobrega have been dominating proceedings on the circuit this season.
Last year's junior champion, Brighton John will look to secure another win, while Junior Niles will look defend the veteran's category.
Other events scheduled to be contested include: the 12 to 14 years boys and girls (3 laps), veterans over-50 years (5 laps), veterans over-60 years (5 laps), upright cyclists (5 laps), BMX boys open (3 laps), BMX boys 12 to 14 years (3 laps), BMX boys 9 to 12 years (3 laps) and BMX boys 6 to 9 years (3 laps).
Representatives of Star Party Rental are expected to present the spoils to the top performers.
Around the Web