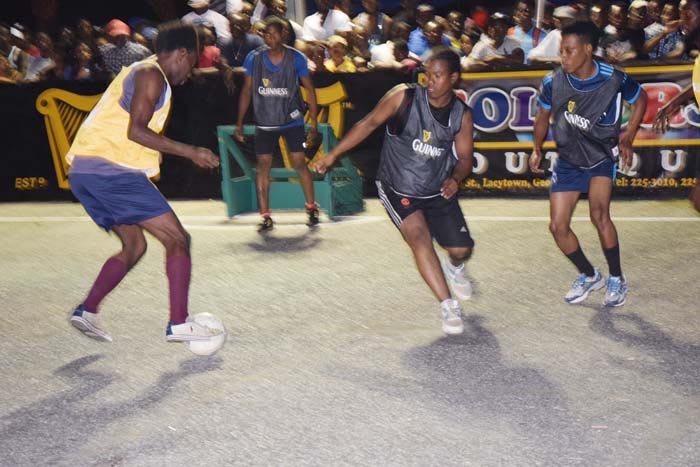 The playoff round of the sixth annual Guinness 'Greatest of the Streets' East Coast Demerara zone will kick off tomorrow at the Haslington Market Tarmac from 8:00am.
"The competition has received a record number of entries which follows the trend of the previous Georgetown and West Demerara zones. Due to this fact, a playoff round is required to select the remaining four qualifiers," a release from tournament coordinators, Three Peat Promotions, stated.
Some 12 teams have secured automatic berths to the 16-team main draw.
The automatic qualifiers are Champion Melanie-B, 2014 winner Melanie-A, Plaisance-B, 2013 winner Plaisance-A, 2015 champ BV-A, 2016 winner BV-B, Buxton Diamond, Buxton, Victoria Church Yard, Haslington Hypers, Belfield Warriors and Paradise-A.
Young Stars will oppose Vryheid Lust from 8:00am, while Golden Grove South tackle Belfield Stars at 8:15am and Victoria Hardball engage Uprising from 8:30am
The fourth contest pits Paradise-B against Police-A at 08:45am, while Golden City battle Police-B from 09:00am and Mahaica Determinators lock horns with Bad-A-Road at 9:15am.
Mahaica Guinness Bar will tackle Young Jiggers at 09:30hrs in the final playoff match in the first round. The respective winners of each match will advance to the second round of qualifiers.
Each game will be played for a period of eight minutes. The official tournament, which lasts for the duration of three days, will commence on Wednesday at the same venue.
The second night will be staged on Saturday with the grand finale set for April 2.
Winner of the competition will pocket $400,000 and the championship trophy. They will also earn an automatic berth to the National Championship.
In last year's finale, Melanie-B defeated Plaisance–B 1-0, while Buxton Diamond finished third following an identical score line over BV-B.
On the other hand, the second, third and fourth place finishers will receive $150,000, $100,000 and $75,000 respectively and the corresponding accolade.
Meanwhile, Guinness Plate Championship also be staged, with the winner walking away with $50,000.
Playoff Round Matches
Young Stars vs Vryheid Lust-08:00hrs
Golden Grove South vs Belfield Stars-08:15hrs
Victoria Hardball vs Uprising-08:30hrs
Paradise-B vs Police-A- 08:45hrs
Golden City vs Police-B- 09:00hrs
Mahaica Determinators vs Bad-A- Road-09:15hrs
Mahaica Guinness Bar vs Young Jiggers-09:30hrs
Around the Web