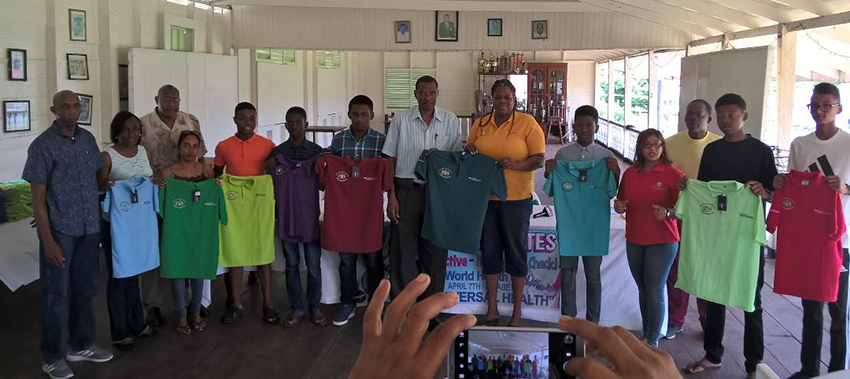 The third annual Guyana Diabetes Association (GDA) Under-17 T20 cricket tournament gets underway today with four matches at two separate grounds in the city.
At the Demerara Cricket Club (DCC) ground, the Guyana National Industrial Corporation (GNIC) will play St Stanislaus College while DCC will oppose Everest Cricket Club in Group A matches while at the Malteenoes Sports Club ground, Transport Sports Club will play the Gandhi Youth Organization while Malteenoes will face the Georgetown Cricket Club.
According to Chairman of the Competitions Com-mittee of the Georgetown Cricket Association, Shaun Massiah, the competition will be played over the course of three rounds.
Massiah said teams have been  divided into two groups of four and the regulations stipulate eight mandatory overs of pace bowling with a penalty of 10 runs per over for every fast bowling over short.
For every two wickets taken, one point will be allocated as well as one point per every 30 runs scored.
The competition, a collaborative effort among the GDA, the GCA and Ansa Mc Al,  was officially launched yesterday at DCC, the defending champions.
Speaking at the launch GCA president, Roger Harper, said that he was thrilled to have the support of the GDA as well as sponsors, Ansa McAl under their Ginseng energy drink brand for the tournament.
The former West Indies player, described the tournament as an extravaganza of youth cricket while crediting the  GDA in their effort to build the sport and health as this tournament set the platform for the Under-13, Under-15 and Under-19 your name across the city.
Harper reminded those in the audience of the importance to sport and how this has led to the meaningful occupation of the boy's time rather than being sucked into crime.
Glennis Beaton-Alonzo, President of GDA was proud to collaborate for the third year with the GCA for this tournament, pointing out that it is a means of bringing awareness to young men of this disease and its effects, thus by virtue of playing in the tournament, everyone will be tested by the end of the tournament on April 7.
Meanwhile, speaking on behalf of Ansa McAl, Kalawatie Das said it was a privilege for the company to be a part of the competition especially as it helps to fight diabetes with fitness.
Around the Web