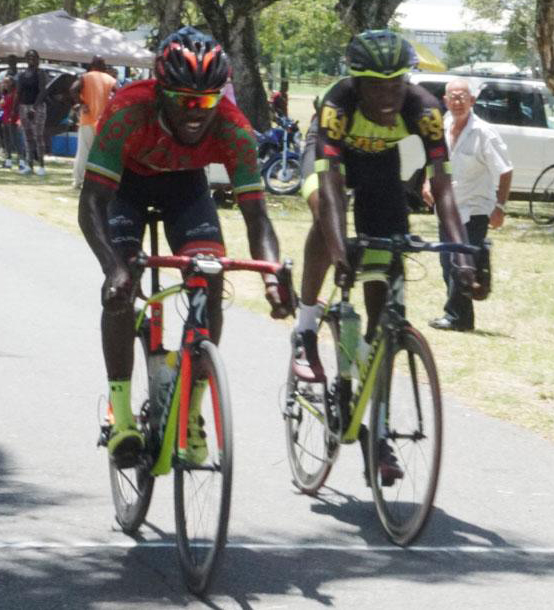 Hamzah Eastman continues to make hay in the sunshine on the National Park Circuit.
The Team Coco's standout latest heroics was witnessed yesterday in a breathless two-man sprint finish with Romello Crawford where he carted off the spoils of the feature 35-lap event of the fifth Star Party Rental criterium programme.
Eastman, who recorded his third win on the circuit for the season, stopped the clock after a brisk one hour, 17 minutes and 20 seconds in perfect conditions for racing at the home of local cycling.
His club mate, Jamal John joined the duo on the podium after out-sprinting breakaway mates, Paul DeNobrega and Curtis Dey who both finished close behind in fourth and fifth places.
Differently abled cyclist, Walter Grant-Stuart, held off a spirited challenge from Andrew Hicks to round out the top six positions.
From the fifth lap, the top five local riders, Eastman, Crawford, John, DeNobrega and Dey separated themselves from the 24-man peloton and increased their lead with every turn of their pedals.
The five-strong wheelsmen worked in tandem unchallenged until about three laps before the finish. This was where Eastman changed gears but was followed promptly by Crawford.
Eastman and Crawford were wheel-to-wheel until the final 150m where the race unfolded. Crawford attacked but Eastman, a superior sprinter, was able to turn on the jets in the final 40m to take the top honors by a wheel.
Other winners yesterday included Thuran Garbarran (BMX Boys and Girls 12-14 years), Gerard Barrington (BMX Boys 6-9 years), John Niles (BMX9-12), Adelie Hodge (Juveniles), Junior Niles (Veteran U-50 years) and Ian Jackson ( Veteran O-50 years).
At the completion of the event, its organizer, Hassan Mohamed congratulated the cyclists for making the day a success and also thanked Star Party Rental for being onboard.
Around the Web