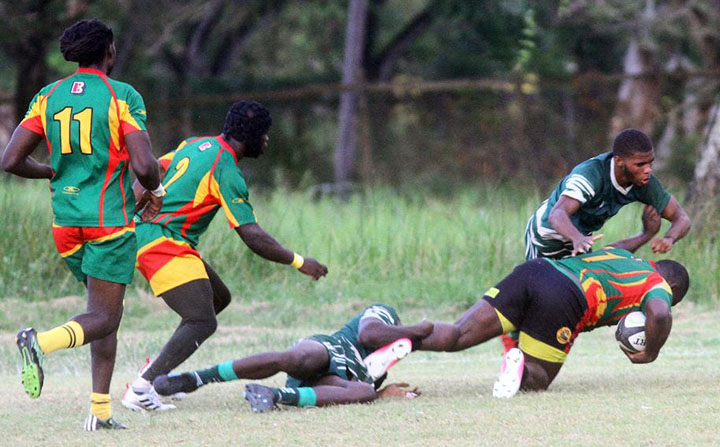 The Pepsi Hornets kick started 2018 on a positive note, shutting out Trinidad and Tobago's Harvard Rugby Club 10-nil to take the spoils of the GRFU/Hairoun Beer Sevens Tournament yesterday at the National Park.
Tries by talismanic national player, Kevin McKenzie and David Felecien on either side of the half put paid to the efforts of the visiting outfit. As with any season opener this match came with great anticipation, both teams coming into the contest with something to prove.
After a few minutes of back and forth play, the Hornets struck with McKenzie bulldozing over the line. The conversion was missed, but the locals were up 5-0. Forward play continued to dominate, but both teams played exceptional defense in the grind out final as scoring opportunities dried up.
In the grit and grind game, littered with hard tackles, the score line remained unchanged until four minutes before the final whistle. National player Claudius Butts playing for Harvard fumbled a sharp pass which proved costly near the Hornets try-line.
Felicien pounced and used his cat-like reflexes to propel himself over the line. With his name on the scoresheet, the Hornets were able to double their advantage and put the game out of reach, much to the pleasure of the fans that stood on the sidelines.
For their heroics, the Hornets were rewarded with the $200,000 first prize. The culmination of the most lucrative local rugby tournament also saw them receiving the winner's trophy.
Notes: Harvard's Abdullah Silverton was voted the MVP of the tournament. The Guyana Defense Force, the Yamaha Caribs, the Police Falcons and the Panthers were the other clubs that competed for the spoils.
Around the Web