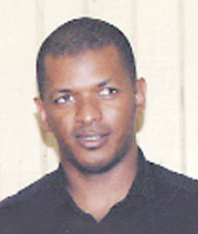 The Guyana Table Tennis Association (GTTA) is on cue to hold its Annual General Meeting (AGM) and election of office bearers today from 13:00hrs at the Guyana Olympic Association Building Block XXX Liliendaal, East Coast Demerara.
Current President Godfrey Munroe is likely to run unopposed for a third term at the helm of the association and has already begun to pull together a team to serve in the interest of the body for the next cycle.
Munroe, who a few weeks back indicated to Stabroek Sports that he is interested in running for another stint as the head only if he has the trust of the electorate to execute his vision for the development of the sport.
He had also called for persons of genuine character and those with integrity and the commitment to aid in advancing a developmental agenda.
Yesterday he informed Stabroek Sport that there were a few persons who have shown interest in coming onboard.
"Mr. Mahendra Persaud, an astute businessman and former athlete has signalled his intention to serve the GTTA in an official capacity," the incumbent informed.
He added: "Kennard Sahadeo also an astute businessman has indicated his interest in serving the GTTA in a similar capacity
"Former junior national player Mr. Gary Pratt has also raised his hand to serve on the executive committee of the GTTA. Gary is resident in Guyana who lives in the USA but has stated that he would be in Guyana and would like to support the development of the sport."
Andrew Daly another former National junior and senior player and former  GTTA vice-president Godfrey Wray have shown interest, according to Munroe to lend their technical expertise to serve the interest of Guyana racket welders,
Meanwhile, the highly anticipated elections which may spring a few surprises will see the Chairman of the National Sports Commission (NSC) Dr Colin Roach serving as the Returning Officer.
Around the Web