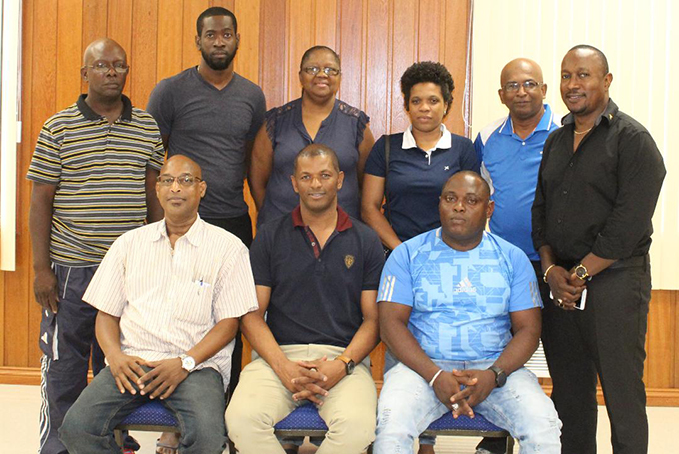 Former national layer Godfrey Munroe will head the Guyana Table Tennis Association (GTTA) for another term after his candidacy for the association's top post went unchallenged at their Annual General Meeting (AGM) yesterday at the Guyana Olympic Association Building at Liliendaal, East Coast Demerara.
The day's proceedings began with the reports of the President, Secretary, and Treasurer after which the returning officer, Dr. Colin Roach, invited the eligible members to make nominations for the different posts.
Munroe was unanimously elected as no other nominations were made to challenge his return as the association's head.
He will lead the GTTA's developmental agenda alongside Andrew Daly, another former national player who defeated Jody Ann Blake 12 votes to three for the position senior vice – president.
The post of junior vice – president went to businessman Gary Pratt, who gained seven votes ahead of Maurice Cummings and Kennard Sahadeo who both had four votes each.
Returning to serve on the association for another term were Deidre Baynes – Edghill and Linden Johnson as treasurer and secretary, respectively. They both were unopposed.
The rest of the association's newly installed Executive is made up of Joel Wilburg, who defeated Candacy McKenzie nine votes to six while Royston Alkins and Blake were nominated to serve as public relations officer and assistant secretary/treasurer, respectively.
Munroe, in his victory speech, thanked the members for their support and recommitted himself and the new executive to the task at hand.
"There a lot of areas we can tighten up, I won't sit here and say the business of the association has been going ideally, however, we need to create an environment where we can achieve maximum development," Munroe expressed.
The newly elected executive will meet shortly to charter the way forward.
Around the Web