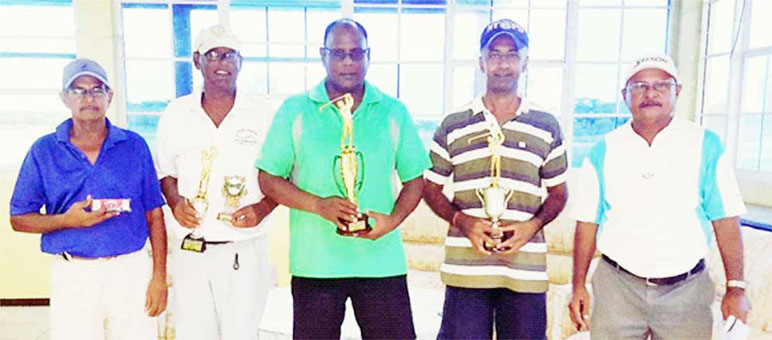 Aasrodeen Shaw won the Club President/Shafura Hussain Memorial Foundation golf tournament on Saturday at the Lusignan Golf Club.
Shaw, the LGC treasurer, was on top of his game with superb putts aided by the excellent conditions which saw him edging out the competition.
Shaw led the field with a 66/17 while Lekhnaraine 'Mahesh' Shivraj came painstakingly close with 67/18.
Patrick Prashad 70/9 was third.
Dr. Philbert London, 71/20; Brian Hackett 72/18; Lakeram Ramsundar 73/11; Shanella London 73/16; Bholawram Deo 73/17; Esau Shamshudin 73/20;  Papo Haniff 74/9; Roy Cummings 74/11; Gavin Todd 74/19 and Clifford Reis 74/23 were the other exceptional players that finished in that order.
Skill prizes for Nearest to the Pin and Best Gross, were won by Bholaram Deo (8 feet) and Patrick Prashad (79) respectively. So far this year, despite many attractive prizes for a hole-in-one, someone is yet to win that prize.
Captain Chatterpaul 'Chen' Deo expressed gratitude for the president's initiative in sponsoring the tournament, while veteran golfer Esau Shamshudin represented the president at the prize-giving ceremony.
Around the Web