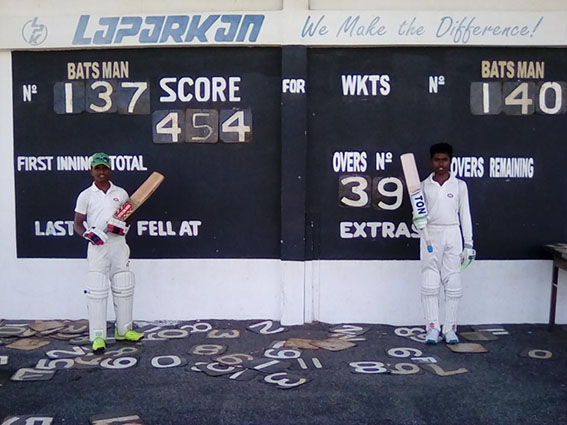 In what could only be described as total advantage, Everest recorded a 428-run win over St. Stanislaus College in the second round of the Georgetown Cricket Association (GCA)/ Toucan Distributors Under-15 55-overs-a-side tournament at Everest Cricket Club ground yesterday.
Records tumbled as the hosts piled up 467-3 declared in just 41 overs, undoubtedly the highest total in a limited overs, U15 tournament locally while St. Stanislaus College were routed for 39 in 16 overs.
St. Stanislaus College, who fielded just eight players, one over the required minimum, found early success with a wicket in the first over and only 10 runs on the scoreboard.
However, the second wicket partnership accelerated the scoring rate as Avinash Rajkumar and Varun Mangla hammered tons for a partnership worth 328 runs, another record at this level.
Rajkumar smacked 18 fours but ran 17 doubles on his way to 140 from some 70 deliveries before being trapped LBW to offspinner, Justin Dookie while his partner, Mangla needed all but 75 balls to blast 137 including 18 fours and one six.
Mangla continued the charge after the dismissal of Rajkumar with Michael Rampersaud with whom he  added 52  before he was bowled by Joshua Joseph, playing across the line.
His dismissal led to the declaration by Everest. At that point, 133 runs were conceded in extras.
Speaking to the century makers, Mangla said he enjoyed batting with Rajkumar and found it easy to find the gaps crediting good cricketing shots for their success while Rajkumar endorsed those sentiments and pointed out that they tried to stick to their coaching and maintained playing the ball on the ground.
In reply, Amid Mukhram spun a web around the inexperienced side to go for just one run from his five overs. He also picked up three wickets, narrowly missing a hat trick. With seven wickets down, St. Stanislaus College could not find a batsman and were declared all out in 16 overs with 39 runs scored, 20 coming from extras.
Around the Web