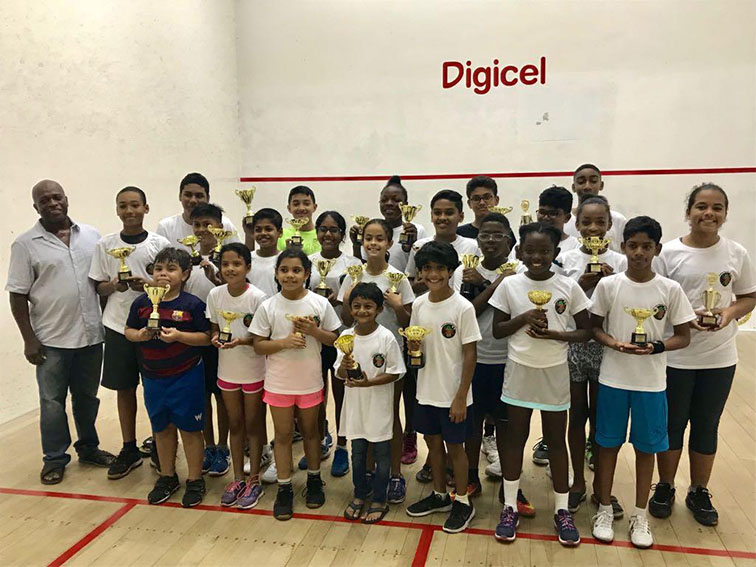 Shomari Wiltshire and Abosaide Cadogan successfully defended their Category-A and Category-B titles  respectively when the Toucan Distributors Junior Skill Level Squash Championships concluded Saturday.
Played at the Georgetown Club Facility, Camp Street, Wiltshire who copped the Most Outstanding Player accolade, made light work of emerging talent Samuel Ince-Carvalhal 11/3, 11, 1, 11/1 while rising star and Most Outstanding Girl award winner, Cadogan, bested Kirsten Gomes 7/11, 11/9, 11/6, 9/11, 7/11.
Jason Gomes defeated Zachary Persaud 13/15, 7/11, 13/11, 11/9, 11/7 to walk away with the Category-C crown while Chad DeAbreu who had played out all his matches earlier in the week, secured the Category-D title.
Lajuan Munroe earned the Category-E accolade, overcoming Rayad Boyce 11/4, 11/8, while Monisha Persaud took the top spot in Category-F, downing Christiana Fernandes 11/8, 11/7.
In Category-G, Brenno Silva secured the title, defeating Tianna Gomes 11/3, 11/1 while undefeated Matthew Daby clinched the Category-H title, defeating Maya Dean 11/ 5, 11/7.
In the other individual awards, James Mekdeci and Christiana Fernandes were bestowed with the Most Improved Boy and Girl awards respectively. Below features the complete list of results.

Around the Web