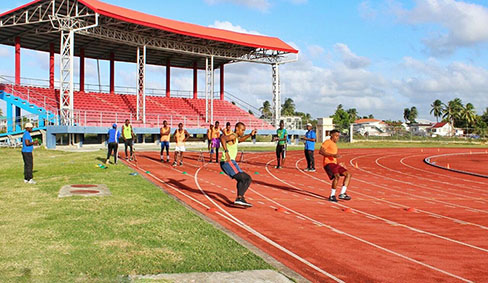 The Guyana Football Federation (GFF) staged its first quarterly Referees Fitness Test on Saturday at the National Track and Field Centre, Leonora.
Some 19 officials participated in the programme, four of whom were International Federation of Association Football (FIFA) referees. Among the remaining 15 officials, 11 were Assistant Referees (ARs).
According to a release from the GFF, Lindley Langhorne, Member Association Fitness Instructor stated, "It was a clear indication from the FIFA officials that they were very much prepared for this fitness test and, by extension, the game. They exhibited good physical condition throughout all aspects of the fitness test."
He added, "The Repeated Sprint Ability Test involves six sprints for which they have to pass at particular timings before six-eight minutes rest before heading into the interval part of their evaluation. In the interval part of the evaluation, they are expected to do a number of runs, that's 75-metre run followed by 25-metre walk, which completes a total distance of 40 meters around the track upon completion. These interval tests are a good indication as to how the referees' body is prepared for the game."
"While the referees generally have to run 4000 metres around the track in comparison to the game, which they run some 1,200 meters, this is just a sample of what they perform in the game. A referee who is properly prepared for the game will easily pass one of these fitness tests. This is just a general evaluation to indicate what level of fitness they currently have. Regarding the heart rate, many of our officials have heart rate monitors, which we'll get some readings to determine how their bodies are responding to the various kinds of activities, whether it is the sprints or high intensity runs", Langhorne added.
"The test is similar for the Assistant Referees with the inclusion of one more activity in which they must do three different evaluations in this one test. They are engaged in the CODA, Repeated Sprint Ability and Interval. The ARs have to do a series of sprints since this is one of the elements that can be found ever so constant inside of the games. In comparison to referees, they both run about 4000 meters around the track but the ARs generally run a shorter distance in the game but the test still gives a good indication as to how well the referees are prepared for the game," he said.
Around the Web